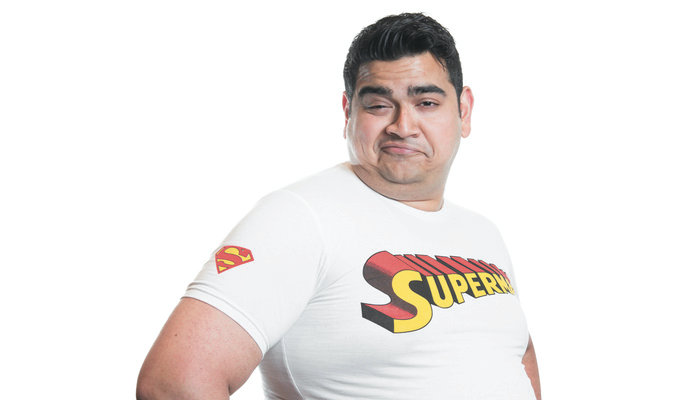 Dilruk Jayasinha Is Kind Of A Big Dil
Note: This review is from 2014
'I have a kind face,' 29-year-old Dilruk Jayasinha tells his audience, accurately, at the head of his upbeat debut show which does nothing to challenge the stereotype that fat equals jolly, even though there's some heartache at its core.
The Sri Lankan has always struggled to form romantic relationships, forever ending up in the 'friend zone' when he'd rather be so much more. It's a situation that adds to his ball of insecurities, which he tries to conceal by adopting a fake bravado on stage, as an egotistical 'curry Casanova'. However, he can't sustain the facade, and it's not long before he's admitting as much – even while maintaining an apparently confident, jaunty delivery.
Balancing the two sides of this persona is a delicate process, but Jayasinha pulls it off, while widening his material out to include discussions about his background as a son of a Muslim family educated by Catholics who wound up atheist. He's also one of the battalion of comics who tells an awkward story of how being mugged – and failed to drape himself in glory or dignity when it happened. Nevertheless, it's interestingly told, as all his stories are. He is not always rip-roaring, but the hour is peppered with nice jokes, including one stand-out line about his narcissism that would have done Oscar Wilde proud.
His chatty, affable loser personality undergoes another change near the end, when he tells a tragic story about the two father figures in his young life. It's an odd change of tone, which he addresses with a self-referential commentary that gets increasingly metaphysical as it layers up. It's a clever piece of deconstruction, but seems to belong in a different show.
It's not the only flaw. For example, the idea that he was planning a show about weight loss is odd, since that seem to have been a much duller hour than was actually delivered. But such things are forgivable from a newcomer in an entertaining show that establishes him as a charming, funny comic with a likability that burns bright. There will be few in the audience who wouldn't want this bloke in their own friend zone.
Review date: 13 Apr 2014
Reviewed by: Steve Bennett
Recent Reviews
What do you think?