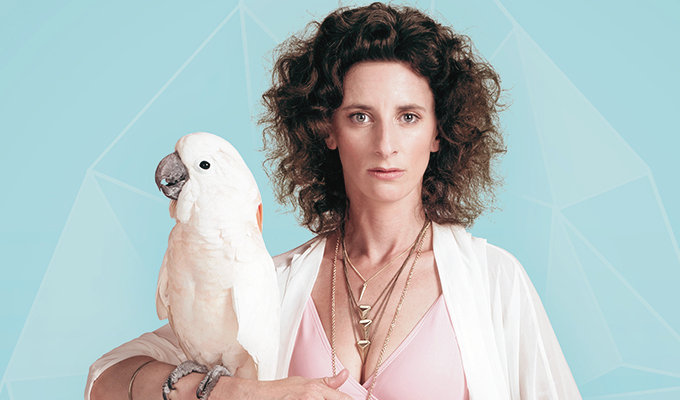 Felicity Ward: The Iceberg
Note: This review is from 2014
The Iceberg proves a useful catch-all analogy for Felicity Ward, with a premise that in almost any situation what you can see with your limited perspective is only a small fraction of what's actually going on. Likewise any review of her frenetically busy show can only hope to capture a tiny fragment of its broad scope.One strand is that the public face we present masks the vast majority of our personality – a trait inevitably amplified through the narcissism of social media. In her case, she alludes to the fact she's racked with insecurity off-stage; although from this full-on performance, fizzing with infectiously excitable energy, you would never know it.It is a winning performance. The audience on cut-price Tightarse Tuesday are chronically unresponsive, but with an spirited physicality, she just flings more at them until the aloofness crumbles. Songs, banter, chants, theatrical jiggery-pokery all bolster the already livewire act, and she sees it as a challenge to throw all this at the reluctant crowd until she has them where he wants them.She's equally eclectic with the subject matter, which ranges from the broadly observational  to the political to the personal to wider comments on society. She uses mainstream material such as the chants at cricket matches to establish her credentials, so she can tackle things that are important to her, most notably the Australian government's cruel attitude to refugees, without slipping too far down the slope of preachiness. Politics is by no means a mainstay of her hour, but it's refreshing to see a comic include it in the mix.Truth be told, a little of the other material, in the cold light of day, might be a little pedestrian, but it's sold with such irresistible passion and disarmingly self-deprecating charm that it's not so important. And more than enough of her writing is fresh and original that you can forgive her taking an easier, previously trodden, route now and again. In any case, the peripatetic nature of the show means you never know quite where she's going next. Such unpredictability demands your attention to keep up, but rewards it with explosively funny routines.This is a worthy follow-up to her autobiographical, Barry-nominated 2012 show The Hedgehog Dilemma, conclusively showing that there are plenty more strings to her comedy bow and underlining her status as one of the best comedians to emerge from Australia in recent years. And to think we might only have seen the tip of the iceberg so far...
Review date: 2 Apr 2014
Reviewed by: Steve Bennett
Reviewed at: Melbourne International Comedy Festival
Recent Reviews
What do you think?