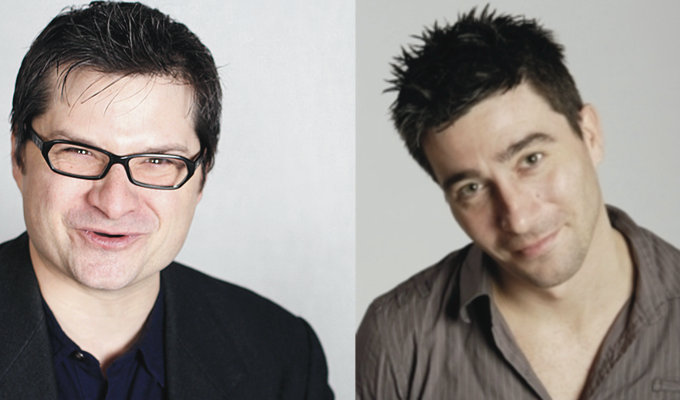 Mibbes Aye, Mibbes Naw
Note: This review is from 2014
After all the stooshie earlier in the week about sourcing participants for the No side of this Scottish independence debate, it was heartening that Mibbes Aye, Mibbes Naw ultimately drew a full and engaged crowd. The Better Together campaign's reasons for backing out remain unconvincing. But a straw poll of the room, taken early on, revealing less than a handful of their persuasion present, might hint at their reasons.
They remained conspicuous by their absence, with even the No panelists distancing themselves from what was generally agreed had been overwhelmingly negative campaigning. Not that Alex Salmond would have crowed after this midafternoon event either. The SNP leader's ego, vaulting ambition, trustworthiness and appetite drew snipes from all corners.
Into this passionate, partisan but notably good-natured, generous and curious atmosphere, US-turned-Brit comic Erich McElroy, who has Scottish parentage, and journalist and unionist David Bateman, truly deserved and received credit for putting together their cases for keeping the union, not least as they were appearing at such short notice.
Opposing them were stand-up Keir McAlister and Scottish Green Party leader Patrick Harvie MSP. Again, to the panel's credit, the laughs were far from confined to the comedians, nor the strong points to the non-comics. Intermittently light-hearted, the Sunday Herald's Iain McWhirter maintained an assured presence as chair, introducing the Question Time-style event as 'Mock the Referendum' and, paraphrasing Gwyneth Paltrow, 'Conscious Decoupling'.
In the opening remarks, Harvie identified the aim of the Yes camp as winning over the undecided, suggesting comedy events like this would be a useful way to do so. In Westminster, every political party was drifting right-wards he declared, leaving Scotland a chance to 'do something dramatically different'.
McElroy acquired a British passport in 2007, originally as a matter of convenience and marriage – 'a supplement fell out of the Guardian'. But his genuine affection for these isles was immediately apparent. A Londoner, he declared himself amazed by the blasé attitude of many in the city to the September 18 vote, marvelling at the sheer quality of the condescension. He added that if a US state tried to break away, it would be a 'big deal', Texas notwithstanding.
Mischievously but without malice, McAllister ventured that McElroy's inclusion in the debate simply reflected the US's dictation of Westminster policy. Encapsulating what came to seem the consensus of the panel, and those inside this affluent, West End corner of Clydeside, he declared Scotland to be 'socially and politically different' to England.
For him, Scotland has suffered Stockholm Syndrome for too long, likening the No 'Project Fear' effort to a 'psycho ex, gaffer taping you to a chair'. For all Europe might be venturing right-wards, Scotland could look to Finland as an example.
Finally Bateman, who grew into the argument as it developed, betrayed his initial nervousness by declaring that as a conservative unionist in this setting, he felt 'like a paedophile'. The subsequent pantomime hisses prompted McElroy to yell 'I've got my gun, shut the fuck up!' and a cry from the audience that at least 'a paedophile deserves sympathy'. The journalist reckons Scotland will be economically better off as part of the UK, though with more devolved powers, while acknowledging that 'anything that unites David Cameron and George Galloway feels like a cause for evil'. Nevertheless, he reasoned, you should keep your friends close and your enemies even closer.
With McWhirter kicking off the debate proper by stating that leaks from the Coalition Government suggest an independent Scotland would be able to keep the pound, McElroy, asked if you kept the currency, the Queen and the army, what's the point of independence, especially as the Bank of England still controls the 'financial levers'?
To this, Harvie and McAllister both talked about initial steps, with McAllister arguing that Scotland needs to be 'flexible, confident and aspirational' and decide about the details later, while the MSP pointed out that it wasn't simply a choice between the pound, the euro or a new currency, raising the possibility of Scotland joining a Scandinavian bloc using the Krona.
As to whether Scotland becoming independent would mean a more international outlook, McElroy pointed out that lost power on the global stage might actually mean less independence for the nation, a view endorsed by Bateman. McAllister countered that Scotland already has a more progressive outlook on immigration than the rest of the UK, with Harvie venturing that it doesn't suffer from the 'island fortress mentality' in the same way. He envisages Frankie Boyle and Craig Hill becoming ambassadors, with the camp comic posted to the Vatican, and George Galloway sent to the most volatile part of the Middle East.
The wretched question of Scotland's oil reserves was largely glossed over, largely to be fair, because it could sustain a longer, much duller debate and still not reach any conclusions, though it continued to hang like an elephant on a trapeze in the room. In a similar vein, a female audience member's question of why the all-male panel thought that women appear to be less inclined to vote for independence than men, prompted much wringing of hands and platitudes about women being less impulsive, more rational and likely to take their time before making a decision, with blurted apologies, talk of 'strong women' on both sides of the debate, and general embarrassment.
Still, the last word was left to McWhirter, who surely echoed many's sentiments that 'I wish there could be more of these happening around the country'. A quick, unscientific poll of my own conducted with a few stragglers after the show concluded that nobody had changed their voting intentions but both McElroy and McAllister had boosted interest in their forthcoming Edinburgh Fringe shows.
Imagine, with the annual English invasion of the capital in August, how charged debates at the festival could be, political comedy worthy of the name playing to audiences that don't instinctively share the comedian's viewpoint. That could be something to savour.
Review date: 30 Mar 2014
Reviewed by: Steve Bennett
Recent Reviews
What do you think?