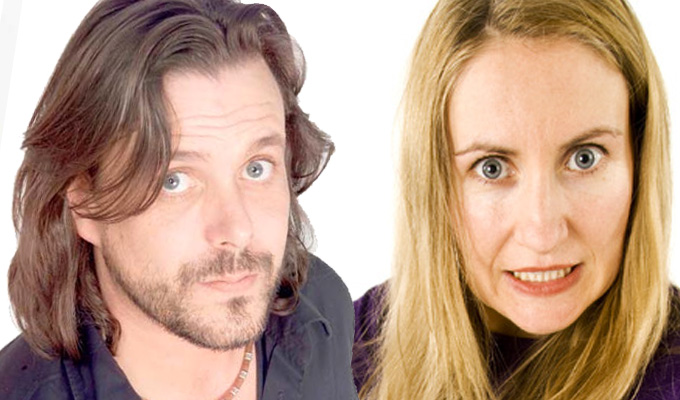 Anything's Better Than These C**ts
Note: This review is from 2014
One of the side-effects of the forthcoming vote on Scottish Independence is a small but discernible groundswell in politically charged comedy north of the border. Anyone who reckons apathy still reigns here ought to have heard the angry reaction to Standard Life's threat to move their business from Edinburgh if the UK splits. Insight is what's required, but passion undoubtedly goes a long way right now.
The title of this double bill of stand-up from Viv Gee and John Scott offers a pretty clear indication of their voting intentions. Equally accurate however is that of the regular night Scott runs in Newcastle, Sod The Tories, as this was less pro-Yes agitprop as sustained 'How No?' bashing of David Cameron and his party.
Both comics have English spouses and though Gee shares the oft-repeated truism that Newcastle would break away with Scotland if only it could, she's waggishly playful with her partisanship, suggesting most Scots' issues are with Westminster, the Home Counties and um, the oil rich north of Scotland. She might be accused of going for the killer line over grappling with the intricacies of currency transition. But there's delicious payback in her swipe at London businesses refusing to accept Scottish banknotes.
The prevailing metaphor for independence is divorce. But Gee refines that to one of an abusive relationship, with Scotland hesitant but ultimately free and rediscovering itself after England's alternate menaces, cuddles and cajoles. A nicely executed routine, the abstract portrayal of the battered wife – a potent symbol in a city where domestic abuse rates famously spike during high-profile football games – might yet benefit from more concrete examples in the initial setup, naming and shaming specific politicians before caricaturing England as a composite, controlling mass.
She isn't above playing to the crowd, with occasional in-jokes about Scottish single Fish Supper and the like. And it's unfortunate that her jibes at Alex Salmond and Nicola Sturgeon are uncertain and seem tacked on, not least as she has fun with the easy target of Donald Trump, whose association with the SNP leader she might make considerably more of. Balance isn't necessarily required for cutting political comedy but her criticisms of Cameron would undoubtedly gain from giving it more than lip service.
Equally though, she knows what riles her audience. Switching her focus to the UK government's policies in general, she overstretches some sexual 'bedroom tax' analogies but is wonderfully pithy with the aforementioned admonishment of Standard Life. Credit too for a sustained, nursery rhyming attack on President Obama that challenges some liberal orthodoxies, even if it's a tad heavy-handed. And few will criticise her for kicking Nick Griffin when he's down.
Though clearly a work-in-progress, with an ending that doesn't quite pull together independence and Glasgow's upcoming hosting of the Commonwealth Games satisfactorily, Gee's convictions are only going to grow more topical and pointed. She has some solid routines already while others, like her mother's idiosyncratic concerns about the September 18 vote, a landmark event reduced to blinkered mundanities, are surely worth developing further.
Scott is similarly upfront about his position on Scotland's future – 'I've been pro-independence for the last 20 years', arguing 'that doesn't make me a nationalist but a democrat'. He has fewer ideas as to how the country might change. But considerably more specific indictments of the Tories and their Liberal Democrat coalition partners, tracing everything back to Margaret Thatcher.
Honing this material over two decades, he's predictably but punchily effective. Sharp, downright nasty gags about the Iron Lady's prolonged demise and the dysfunction of David Cameron and Nick Clegg's relationship are delivered with unmistakable venom.
More interesting if less developed, are his personal accounts of coaching Lembit Opik MP for his stand-up debut and inadvertently finding himself gigging for the BNP in Wigan. Along with an hilarious account of holidaying in Egypt during the Arab Spring and performing a Jesus-Tommy Cooper composite character in the Outer Hebrides, it's these tales that set Scott apart from other passionate, left-leaning comics, even if it's the Tory-hammering that gives his half hour coherence.
Familiar faux-nostalgia for Irish terrorists over Muslim extremists doesn't do him much credit. And on conservative religion, he's less assured. His story of a gay friend standing up to Christian homophobes, while applaudable in sentiment, isn't any wittier for being waspish and in the right.
Like Gee, he also employs re-worked nursery rhymes. But his salient points about simplistic tabloid scare stories are undermined by an apparent desire to cram in every example he can think of. Stripping back this tangential chaff would leave him with a solid central theme and some engaging stories to hang off it.
Review date: 16 Mar 2014
Reviewed by: Jay Richardson
Reviewed at: Glasgow Yesbar
Recent Reviews
What do you think?