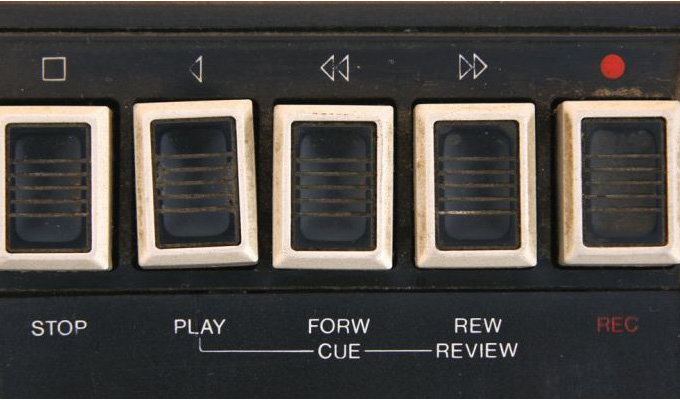 Daniel Kitson: Analog.ue
Note: This review is from 2014
Because he doesn't engage with the press, Daniel Kitson enjoys something of a reclusive reputation... now that even extends to his performances. For the 90 or so minutes that he is on stage during Analog.ue, he doesn't speak, and you can barely see him through the gloomy lighting.
Instead the story is told in a unique and intriguing way. At the back of the impossibly deep National Theatre sit two trestle tables, piled with 46 ageing tape recorders – reel-to-reels or cassette players – acquired from junk stores or online. On each is a recording of Kitson's voice telling a couple of minutes of the evocative narrative.
All the audience sees is his shadowy figure, pottering about like an night caretaker, carefully bringing each device in turn to its position on stage, plug it in, and press play at the right time – and hoping all goes to plan.
In one recording that sets the scene, Kitson acting as his own chorus insists the tricksy presentation does not come from his usual contrariness. Whether or not that's true, the nostalgia for a simpler time of valve-driven technology housed in sturdy wooden boxes that preserves snippets of the past on physical magnetic tapes is a perfect fit for the simple, low-key romantic ideals that has pervaded all his work.
This particular story, which comes to London after a New York fun in the autumn, has been back-engineered from the unusual presentational idea. It concerns Thomas Martin Taplow, an elderly man who, more than 35 years, ago decided to record his memories while he could on a similarly eclectic range of devices. Many of the tapes concern his touching love for his wife Gertie, felt more acutely in small moments of domestic mundanity than in overblown gestures.
In the almost-present day, one of the tapes has a paramount significance to call-centre worker Trudy Livingstone, who first heard them as a child. It proves a comforting replacement for her father, who died when she was young, and she devotes her life to finding the others in the series, at the cost of her of potential.
As is Kitson's trademark, pathos, melancholy and stoicism underpin the stories, which never fully resolve. And while the show is a fiction – a reaction, he says, to the cheapening of his genuine experiences as they become stories he tires of telling on stage – even the brief autobiographical notes he allows provide strong echoes with the plot, as it explores the nature of memory, solitude and obsessional endeavours.
The ideas behind Analog.ue are as interesting as we've come to expect, just as Kitson's descriptive writing is as precise as ever, conjuring up scenes and emotions with the perfect adjective – and comically undermining moments of seriousness with a well-placed expletive.
However, the running time seems a little long, as the characters never really develop, just that their personalities are painted in ever-finer detail. And although the staging is what defines Analog.ue, it is also its partial undoing: storytelling is all about engaging with the audience, and no recording, however evocatively crackly, can replace he human touch. We do miss Kitson, and his idiosyncratic charisma, addressing us personally.
Nonetheless, this is an intriguing theatrical experiment from a comic-turned-storyteller ever keen to try new ideas.
Review date: 26 Feb 2014
Reviewed by: Steve Bennett
Reviewed at: National Theatre
Recent Reviews
What do you think?