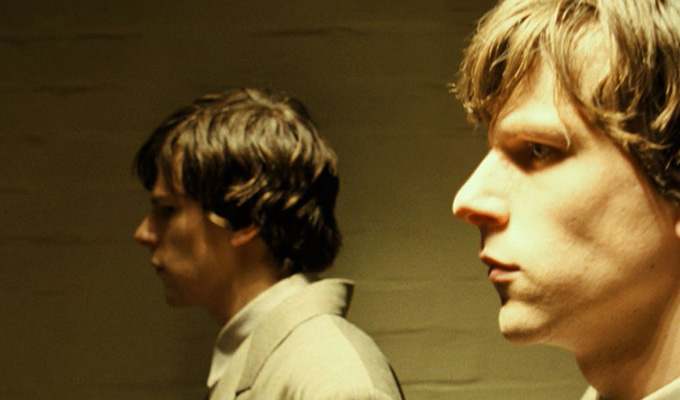 Film review: Richard Ayoade's The Double
Note: This review is from 2014
Richard Ayoade's second film The Double is loosely based on Fyodor Dostoyevsky's borderline unreadable novella – but owes considerably more in look and narrative to Terry Gilliam's Brazil. Nonetheless, it stands as a slyly witty and impassively surreal psychological nightmare in its own right.
Unlike Ayoade's enjoyable but ethereal coming-of-age debut Submarine, The Double is far more intellectually ambitious with the noir, bureaucratic purgatory he evokes self-consciously nodding at Orwell, Kafka, Gogol and even Hitchcock's Rear Window, questioning the price of individual expression in a conformist society.
Jesse Eisenberg plays Simon James, a long-serving office drone so unremarkable that even his co-workers and mother have trouble remembering or recognising him. Like Dostoyevsky's Golyadkin, he has problems expressing himself and views his life with detachment, as if observed from outside.
Forever dressed in an ill-fitting suit and stumbling over his words, he's bullied by a random fellow commuter and surrounded by silent, grey-haired and hunched visions of his future in his dark, cramped industrial workplace. The Colonel (James Fox), his ultimate boss, is witnessed only fleetingly in television commercials, a handsome, authoritative, semi-mythical figure who appears to reside in a universe far removed.
The only lights in his oppressive existence are Jack (Paddy Considine), the maverick space cop in his cheesy favourite TV show, and Hannah (Mia Wasikowska), the co-worker whom he visits on a barely concealed pretence every day and spies on at night from his flat. She scarcely acknowledges him until he witnesses a suicide outside her home and even then, only politely accommodates his awkward advances.
Suddenly, James Simon appears. An exact physical copy of Simon, except charismatic in every way the original is not, everyone else is oblivious or unperturbed by the likeness. Charming all women and his co-workers, James encourages Simon in his pursuit of Hannah but quickly comes between them, instigating a sequence of events that leads to an endgame of dehumanisation, paranoia and betrayal.
Ayoade's care and attention to detail in the bleak, claustrophobic and labyrinthine world he creates is striking, the tone he musters generally dreamy and hypnotic, with the gloomy interiors and technology looking simultaneously futuristic, retro and vaguely Soviet.
However, whenever he chooses to foreground his protagonist's mental state, a loose, hand-held camera darts around Simon, in concord with a nerve-jangling chamber score from Andrew Hewitt.
Although Simon and James's initial night out together is the film's high point and the archest moment of its humour, Ayoade treats the doppelgänger theme and their mirrored moments with restraint, even while Eisenberg obviously relishes the opportunity to play up both the nebbish and brash sides he displayed in films like The Social Network.
The plot's various tiny tangents and knife twists can't suppress an oppressive sense of inevitability to the ending, but there are plenty of enjoyable, single scene cameos that keep the comedy fan engaged.
Sally Hawkins pops up as an obstructive receptionist while Ayoade's IT Crowd co-star Chris O'Dowd is an insensitive nurse, as preoccupied with form filling as everyone else in this paper-shuffling society.
Kim Noble and Stuart Silver linger judgementally, Lloyd Woolf is a cheerfully disinterested bureaucrat, while as custodian of Simon's mother, Tim Key delivers the sort of bluntly offhand turn he excels at.
Best of all, is the suddenly ubiquitous Chris Morris's appearance as a 'workers service executive'. Putting Simon thoroughly in his place, which is to say nowhere, his flashing, malevolent grin is the brightest thing in The Double's near-permanent nightscape.
• The Double will again be screened at the Glasgow Film Theatre tomorrow and Sunday. It goes on general release from April.
Review date: 21 Feb 2014
Reviewed by: Steve Bennett
Recent Reviews
What do you think?