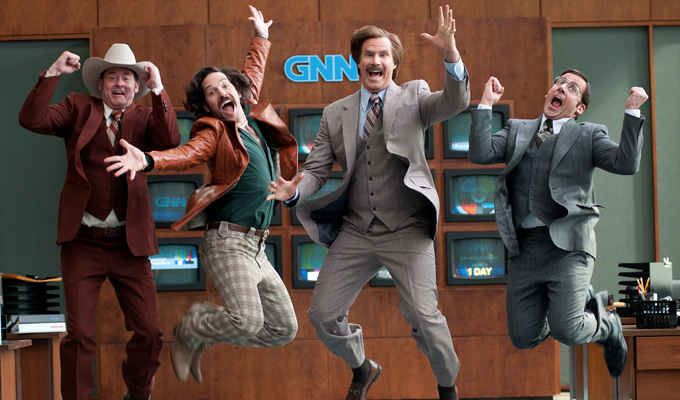 Film review: Anchorman 2
Note: This review is from 2013
This just in: San Diego's favourite newsman, Ron Burgundy, is back. Although with a marketing push that would make McDonald's blush, few can be unaware that the Anchorman sequel is out this Christmas.
Ten years on and neither Burgundy nor his sidekicks have grown any the wiser. Will Ferrell's luxuriantly-moustachioed anchorman is still an awkward, naive adolescent egotist – the arrested emotional development making his cheesy swagger and prehistoric attitudes strangely endearing.
He may be a simple man, but he's nothing compared to Steve Carell's weatherman Brick, stealing every scene with his mental deficiencies and child-like directness. And in this film he gets a perfect foil in the wonderful Kristen Wiig, playing an equally inept and dim-witted love interest.
Anchorman 2 is set in the Eighties, when Burgundy, by now a washed-up has-been, is recruited for the graveyard shift at the launch of a new 24-hour news network, GNN. Ignoring the characters' fates as foreshadowed at the end of the first film, Ron follows the 'putting the old gang back together' sequence, and they all head to the Big Apple.
There Burgundy's reactionary opinions are put to the test when he meets his new boss Linda Jackson (an excellent breakout performance from Linda Jackson, holding her own agains the comedy elite). She is both a woman and black – two concepts Burgundy hilariously struggles to get his head around, uncontrollably saying the wrong thing to both her and her family.
Their encounters are some of the many over-the-top set pieces that hit the mark; and for the first act at least Anchorman 2 is a bonkers, slapstick romp that consistently hits the mark. Although as the over-long film progresses, the hit rate diminishes as the limits of the characters and the sketch-like structure begin to show.
It's a fine line between the preposterously silly and merely over-indulgent, and the script, which Ferrell co-wrote with director Adam McKay, jumps from one side to the other. Perhaps an independent director might have heard some alarm bells with the ridiculous, laboured, plot involving Ron going off to live in an isolated lighthouse and hand-rearing a shark, for example. But for every gratuitous dud there's at least one more laugh-out-loud scene giddily revelling in its own stupidity. Such is the world that's created that even a set gets a laugh – Burgundy's taste-free Manhattan bachelor pad.
There is a message, of sorts, about the modern media landscape. Although the concept of 24-hour news initially seems alien to Burgundy, it turns out that he has just the optimistic, populist touch these new networks demand. Never mind information and analysis, Burgundy can do spectacle, opinion and triumphant patriotism – just what the audience wants. Car chases, not political insight. By the time the Anchorman franchise gets into this century, he will surely have risen to the head of Fox News.
Sub-plots involve Burgundy's rivalry with golden boy Jack Lime and his lost connection with his estranged wife and son, whom he struggles to communicate with. Although as ex-wife Veronica Corningstone, Christina Applegate is one of several under-used actors – he flat character serving to advance the plot, but not the laughs. Similarly, David Koechner's sportscaster Champ is too often overlooked, while Paul Rudd's Brian Fantana treads over some old gags from the first film, such as his mystical cabinet.
Other repeated in-jokes include Ron's virtuoso flute-playing and a climactic showdown between rival news teams – and in the new cable era, there are plenty of them. Look out for a brief appearance by Sacha Baron Cohen as a stiff-upper-lipped British newscaster, although the whole film is awash with A-list cameos.
Needless to say if you enjoyed the original, you'll find plenty to savour here, too. And flawed though it may be, there are enough moments of gleeful extravagance that give Anchorman 2 more laughs than much more rounded offerings could hope for. Even if many of them have already been given away in the ubiquitous trailers.
- by Steve Bennett
• Anchorman 2: The Legend Continues is on general release from Wednesday. Click here for ten Ron Burgundy quotes from the film.
Review date: 16 Dec 2013
Reviewed by: Steve Bennett
Recent Reviews
What do you think?