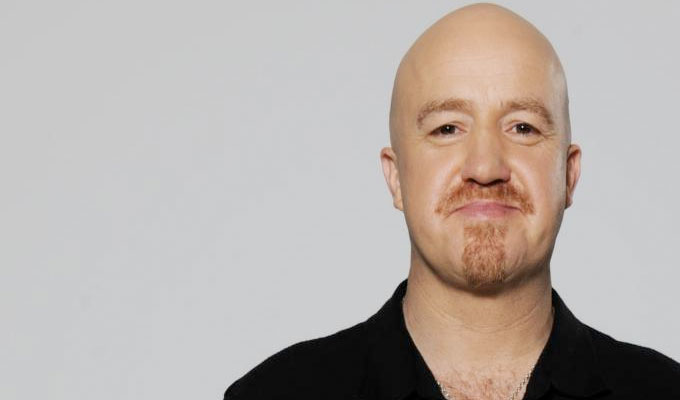 Andy Parsons: I've Got A Shed
Note: This review is from 2013
Retiring to the solitude of his shed is the apex of Andy Parsons's ambition. He's a simple man, with basic needs, whose default state is an impotent, frustrated bar-room grumble at the state of the world, whether it be on the large scale of politics or the everyday level of his own strife.
So he reflects annoyances we've all suffered, from being trapped in an automated phone system designed by Kafka himself to having an unhealthy lifestyle picked apart at a medical check-up.
Yet while this strikes cords of recognition, not much is particularly personal. While we learn, for example, that he has just become a father, the jokes are very much from a common pot: that the drooling, incontinent, unsteady infant will one day care for the drooling, incontinent, unsteady parent.
The reluctance to put his soul on display, combined with that near monotone nasal voice of condescension, and a formal delivery structure only occasionally broken by an interruption from the audience, make him hard to completely warm to. Yet the best routines are impressively described first-hand anecdotes that show him as a hapless dolt, a bit vulnerable even, as he finds himself locked naked out of a hotel, the victim of a car accident while dozing peacefully in his bed, or gripped by vertigo-induced terror while standing on a high balcony.
These clear highlights are not, however, typical of either this show or his 20-plus year career in comedy. His usual shtick, as honed on Mock The Week, is the sarcastic, but not-too-brutal, ribbing of the political classes: mocking Boris Johnson for being a posh buffoon, Nigel Farage for having an unEnglish surname, or Michael Gove for... well, he doesn't have to say anything about the Education Secretary since he's already a figure of contempt and derision, as proved by the reaction mere mention of his name elicits.
Such gags and routines are well-constructed if not, on the whole, dazzling in their inspiration. The audience react with smiles and a cushion of amused chuckles – but also more applause breaks than more heartfelt comics; ovations engineered by Parsons's careful delivery combined with an acknowledgment of obvious craftsmanship.
He performs two 50-minute sets, being too mean, he claims, to pay for a support act. But he might benefit from stumping up for one and cutting the fat from his own material. A couple of set pieces: a parody political speech and an alleged rant by a right-wing columnist (though it seems just another excuse for Parsons' to berate another everyday bugbear: cyclists) go nowhere, and other sections could be tightened.
There's an undercurrent of playfulness, not least when he surprisingly unveils a previously hidden talent as part of the showbiz finale he believes comedy audiences have come to expect. But too often this is buried under his heavily-formatted show, only occasionally peeping through when he engages with some of the more attention-seeking punters.
The metaphorical shed may be the isolation he seeks from the world, but he's also built something of a protective layer around himself in his act – through both the stiff-but-effective delivery and the choice of generic topics – that is bar to truly great comedy.
Review date: 1 Nov 2013
Reviewed by: Steve Bennett
Reviewed at: Beck Theatre
Recent Reviews
What do you think?