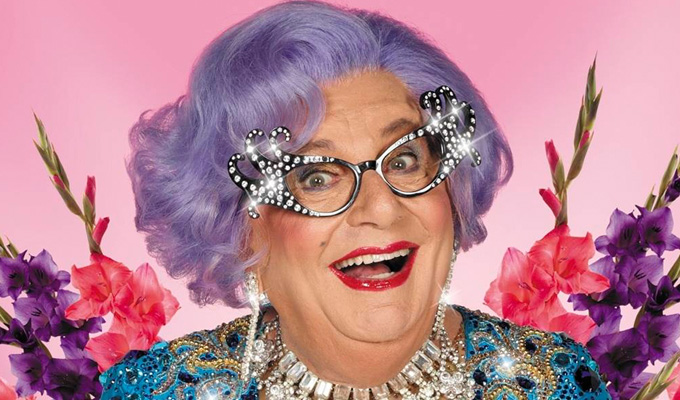 Barry Humphries: Eat Pray Laugh - The Farewell Tour
Note: This review is from 2013
What a way to bow out! After 58 incredible years, Barry Humphries retires Dame Edna – and indeed all his creations - with a glorious mix of pathos, showmanship and biting humour that proves a theatrical triumph.
With the understated glamour we've come to expect of the housewife superstar, she arrives on an elephant made of glitter, yet departs on a tsunami of genuine affection, casting gladioli as she goes.
Humphries himself may be 79, but inside the Everage ballgown he's as sharp and acidic as ever. 'You've aged,' his glitzy alter-ego tells the audience. 'But I've stayed the same.' How true.
The doyenne of drag queens – but so much more besides – she witheringly demeans the dress sense and the social status of the 'plebs' who've come to see her, and we love her for it. There may be an autocue subtly positioned as an aide memoire for the set pieces, but when it comes to crowd work, an agile mind and half a century of experience need no assistance.
She's fearlessly audacious, using her fame to get away with a exquisitely excruciating bit of ad-hoc marriage guidance with a couple of excellent sports drawn from the Milton Keynes audience (Yes, her in Milton Keynes! Imagine!) The filthiest double entendres abound, of course, yet they are done with imagination and wit that make them sparkle as bright as the sequins on her frock.
Along with the gloriously vulgar, we learn more of her family, with a beautifully described visit to her estranged daughter, told through the retches of an acid reflux as she can barely bring herself to describe the horrors of her offspring's piercings and her pitbull breeding. But describe them she does, in perfect comic detail. And we also learn why she is bidding farewell to the stage, thanks to an awakening at an Indian ashram.
A virtuoso valedictory performance, then, or perhaps that should be gladi-dictory. But the great Dame is not the only character we send on their way tonight.
The first half sees the end of Sir Les Patterson, too, and probably not before time. Of course we're not supposed to hold him up as any sort of role model, but getting laughs from calling Chinese people 'slants' or getting 'dolly birds' to pose suggestively with courgettes just doesn't sit well any more. If it's old men with outdated language and ideas you want, try the UKIP conference...
Yet still the old cultural attache somehow makes farting charming, and has picked up some nice turns of phrase. He's always had a good ear for nifty euphemism, and plenty get an airing in this extended sketch in which he throws a barbie unlikely to pass any health inspections. The scene also sees a brief appearance from a new character, Les's brother Gerard, a gay, paedophilic Catholic priest who's pretty one-dimensional.
We also bid adieu to the ghostly Sandy Stone, not Humphries' most famous creation, but one of his most enduring and endearing. John Betjeman has reviewed Stone, calling him 'this decent man from the suburbs' so how can I compete? But this powerful tragicomic soliloquy, alternately tender, uncomfortable, and witty, describes poignantly the decline of loved ones and the commercialisation of care.
As Humphries' canon of characters all retire to showbusiness's own twilight care home, it brings a lump to the throat. And after the flamboyant Edna takes her curtain call and Humphries, as himself, says a personal thank-you, one of the most distinctive and distinguished careers in comedy is given an emotional and fitting farewell. We might not know it yet, but the world will be poorer for not having Edna in it.
Review date: 25 Oct 2013
Reviewed by: Steve Bennett
Reviewed at: Milton Keynes Theatre
Recent Reviews
What do you think?