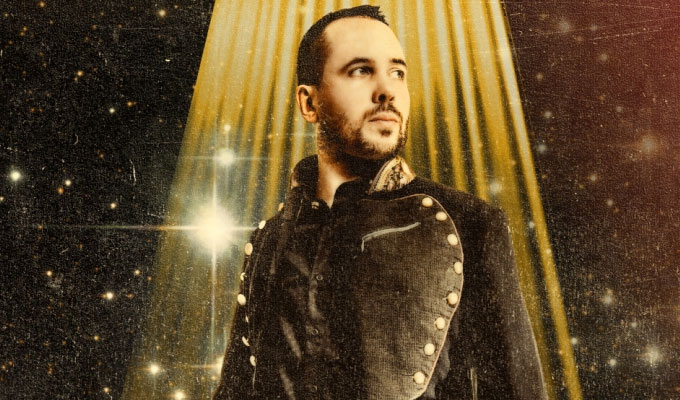 Abandoman: Moonrock Boombox
Note: This review is from 2013
Abandoman's improvised rap shtick has become pretty well known on the comedy circuit, but the task of sustaining what's a mighty impressive talent into a varied and substantial hour has not always been easy.
But with Moonrock Boombox, they've absolutely cracked it, taking a leaf out of Showstoppers' playbook and attempting a full-scale ad-libbed space musical. A hip-hop-sci-fi-improv-rom-com-action-adventure, if you like.
The plot, it's fair to say, is fairly loose, with the scenes – and indeed any sense of logic – bound together by the most fragile of strings. But that's no matter, what the lyrically dextrous Rob Broderick and his supporting guitarist and keyboard player have done is harness all the upbeat hype of their chosen genre to create an hour of joyous, party-time fun.
In fact, they've not stuck doggedly to hip-hop either, which is a plus for the sake of variety. There's a raucous, catchy drinking song that taps into Broderick's Irish roots, while the show's big finale, inspired, as so much of the show is, by an audience suggestion is an anthemic rock chantalong. Other touches show flair, too, such as Broderick lip-synching as his keyboardist provides an angelic verse, without knowing what words he is miming too. They've even found a none-too-subtle way to crowbar their calling-card 'What's In Your Pocket' song to what we'll call the narrative.
The story has a skeleton, but it's made flesh by the people Broderick pulls out of the audience. In the Brighton Dome Studio, an EDF manager called Lewis becomes the hero – and lives up to the role by pulling an awesome dance move out of the bag – a young dancer called Rosanna his nemesis. Somewhere along the line a haemotologist – and that's a word you don't hear so often in rap – with an unlikely penchant for the film Grease 2 becomes the ship's physician. All play their roles marvellously, though there's no guarantee of that every night, but the fact they get bespoke raps devoted to them makes the evening special.
Each track is set up with Broderick bantering with his chosen target, setting up little scenarios he can later exploit in song, demonstrating a quick gift for hitting the rhymes and advancing the preposterous story towards its blockbuster showdown, which is as gloriously silly as all that's gone before.
It's an irresistibly feelgood show, its celebratory tone heightened by the spontaneity that makes the shared experience all the more potent. If you don't emerge uplifted, you never will be.
Review date: 18 Oct 2013
Reviewed by: Steve Bennett
Reviewed at: Brighton Dome
Recent Reviews
What do you think?