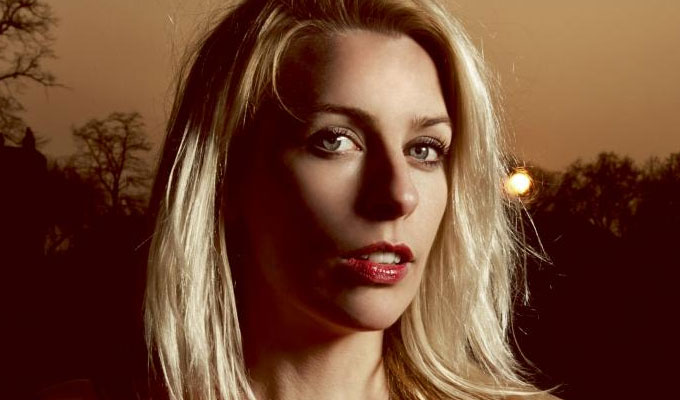 Sara Pascoe vs The Truth
Note: This review is from 2013
This feels likes Sara Pascoe's coming-of-age show; the one in which her surrealism, her gawky delivery, and her personal stories finally combine to form the most appealing amalgam yet. It's an hour driven by imaginative ideas – or at least strongly linked by them – and sincere beliefs, explored though witty off-kilter routines that offer a genuinely fresh look at the world.
She certainly encompasses a wide range of topics, from the post-postmodern celebrity of Big Brother's Chantelle Houghton to the philosophies of Nietzsche, whose quote 'there are no facts, only interpretations' she has purloined as the show's motto.
Truth is seen by a million different people through a million contradictory prisms, so it can only be subjective, that's the theme. If Andie MacDowell believes she's a good actor, despite all the evidence other observers see, how can anything be true. How does Pascoe know, for example, that her boyfriend's not cheating on her? And with an exact doppelganger at that? Plus shes' come up with an outlandish theory to support that paranoia.
Certainly her grasp on accepted reality seems tenuous at best, but it's explained by a sort of a psychological protective bubble she's built around herself to protect herself from harsh 'truths' about everything from her unromantic conception up to her alcohol consumption. Playfully toying with the downbeat truth produces a reality gap, in which her strange jokes can germinate.
But for all her oddness, Pascoe's not short on political thoughts, about the way we treat our elderly, for example, or female body image spanning the burka to women's magazines. Such a topic fits neatly into comedy's increasing embrace of feminism while avoiding anything that might be considered too strident, thanks to a healthy dose of absurdity, which she uses to crush big ideas into silly triviality, while protecting the message.
Recurring motifs, such as her home-cut hair, give the hour a semblance of structure even if, six weeks after her Edinburgh run, this Brighton outing is a little rusty. But her style is gawky and semi-distracted anyway, not built on slickness, so a few rewinds to fill in forgotten pertinent information is far from detrimental.
The combination of all these things is a peculiar, self-deprecatory and amusing hour of thoughts that manage to be astute yet ridiculous at the same time. And that's the truth.
Review date: 14 Oct 2013
Reviewed by: Steve Bennett
Reviewed at: Brighton Dome
Recent Reviews
What do you think?