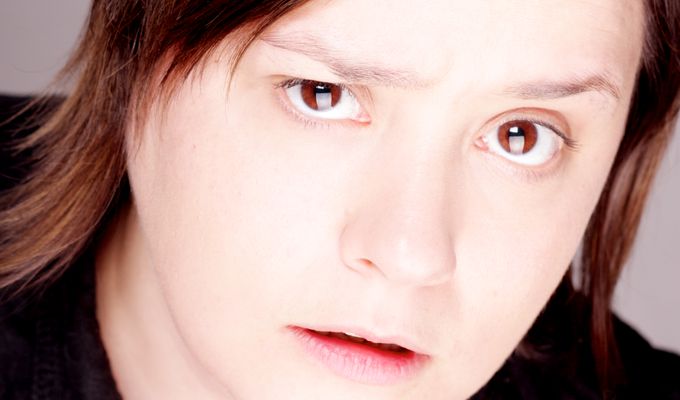 Susan Calman: Out Of My Head
Note: This review is from 2013
Susan Calman exudes a cheery joie de vivre, but behind it is a steely Glaswegian defiance. She's going to have fun on her own terms, no matter what the world thinks.
If that means dressing up her cats, going to the supermarket in her PJs, or gyrating her pelvis as a way of saying 'hello', so be it. Her comedy is therefore both a celebration of quirky, individualism and a self-deprecatory mocking of what oddball behaviour that actually entails. The mix is hugely rewarding.
Something of an advance preview of her yet-to-be-announced next tour, this one-off Brighton Comedy Festival show features a wealth of eccentric stories from her fantasy world made real. When she says she lives her entire life as if it were an audition to be the Doctor Who, you not only believe her, but root for the producers to make that call.
Her last show, This Lady's Not For Turning Either had a strong political payoff about marriage equality. She doesn't wear such passion so prominently on her sleeve this time around, but her relationship forms a strong underpinning to several yarns, not least their honeymoon adventures on the Orient Express – which is not, it has to be said, Calman's natural habitat.
She's equally a fish out of water at a swanky spa, described in a routine that conjures up an hilariously slapstick image, although even in the most everyday of places, Calman doesn't quite fit, thanks to her propensity to have daft ideas and run with them. One such notion provokes a uniquely peculiar piece of audience interaction, when she embarks on an 'applause-off', skilfully stoking the already silly atmosphere in the room.
Her unabashed openness in sharing the most embarrassing of her actions endears. A few times she mentions exchanges on Twitter, the perfect medium, alongside stand-up, for someone so keen to relate her every move.
The only thing missing from Out Of Her Mind is a finale to bring the show to a neat and climactic end; as it is, she seems to just stop when her time is up. But for an hour of funny anecdotes and feelgood carefree attitude, Calman delivers.
Review date: 12 Oct 2013
Reviewed by: Steve Bennett
Reviewed at: Hove The Old Market
What do you think?