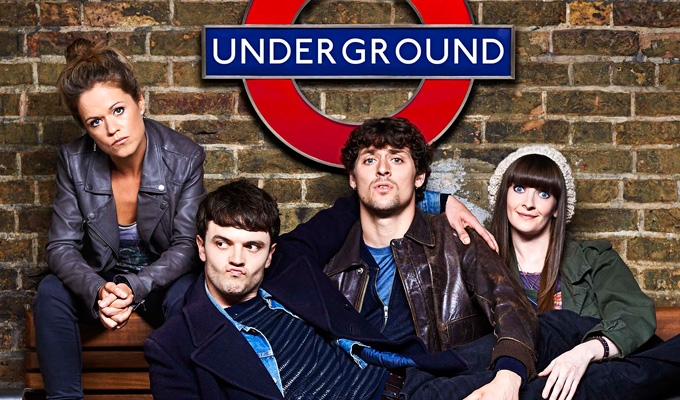 TV review: London Irish
Note: This review is from 2013
Comedy's hard enough; gross-out comedy harder still. What separates The Inbetweeners from American Pie 4? It's the indefinable alchemy of charm, credibility and motivation that goes into the characters.
London Irish, Channel 4's new ensemble comedy about twentysomething expat housemates, struggles with this. That the central quartet are self-centred wasters seeking sex, booze and even heroin is simple enough to grasp, and there are chuckles in their recklessness, but would we really want to spend much time with them?
The show starts as if a series of sketches. Penny-pinching parents dump their offspring three miles from the airport to avoid a car-park fee; we learn of the advantages of sex with a tagged ex-con; there's a set-to with a airport check-in automatron, smiling vacuously as she delivers news of the 'wee' excess baggage charge; then some yakking about the delights of diarrhoea.
There are some laughs to be had at the extremes of this, and there's an efficiency in getting the punchlines over, but the show is closer in tone to the cheap shots of Two Pints Of Lager than the loveable rogues of Shameless.
The main plot maguffin of episode one, for example, is a chance encounter with an old friend, Ryan, who lost his hand in a shooting incident. He's one of the few empathetic figures here, but charmlessly sour Bronagh (Sinead Keenan) once spent the night with him and is appalled and angry that this 'sly deformed little fuck' might have been duplicitous about the number of extremities he had in order to get her into bed – she would surely never sleep with someone single-handed, as it were.
Her attitude is so sincerely mean-spirited that it seems just unpleasant, not funny. There surely needs to be some twinge of sympathy with the character saying the wrong thing out of misguided thought, or perhaps even deliberate, outrageous arch-bitchiness, rather than the lazily offhand offence we have here.
In another plot, Patrick (Peter Campion) tries to escape the psychotic drug-dealer Tyson that the feeble-minded Niamh (Kat Reagan) has hooked up with. But rather than walk out the door of the pub they're in – and they are often in the pub – he goes for a tiny window in the toilets... precisely where said psycho is. Logic is clearly optional in this sitcomland.
Amorality may seem fun – and indeed isolated scenes are funny, in an exaggeratedly inappropriate way – but over half an hour the effect is dulled; as it's hard to care much for characters with such lack of motivation for doing anything, however accurate a portrayal that might be of the world the series is set in.
London Irish is likely to get some stick for its language, with a few scenes hit by carpet-c-bombing, and writer Lisa McGee seems to revel in the freedom she's been given to be so naughty, whereas judicious precision shots might have more impact. It's not top of the offputting list – this is a postwatershed comedy for a target audience who won't get het up about such things – but it is in there.
Other headlines might come from the fleeting presence of Ardal O'Halon, comprehensively burying the memory of naive Father Dougal as Bronagh's grizzled father with his strong cameo. His is one character that does promise something of an extra dimension, and it would be good to see more of him – which I'm not sure is the same for the rest of this sorry bunch.
- by Steve Bennett
Review date: 24 Sep 2013
Reviewed by: Steve Bennett
Recent Reviews
What do you think?