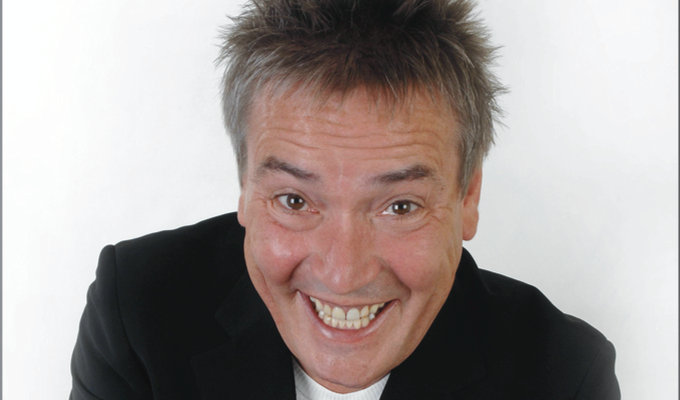 Stand-Up! The Musical
Note: This review is from 2013
Stand-Up! The Musical
is a real thing.
And to complain that it isn't wholly accurate about the lot of a comedian might be as churlish as to complain that The Sound Of Music isn't a revealing documentary into 1940s Austrian childcare. Instead the writers of this show – having just a week-long run at the Floral Pavilions in New Brighton on Merseyside – have deployed some popular stereotypes as the backdrop for their story.
At its core are three comedians at different places in their career. Tony Munroe – as played by Darren Day – is as popular as a comic can get, headlining his Saturday night shiny-floor show, attending celebrity parties and married to a glamorous wife, who he nonetheless cheats on. And all this while being a shameless hack.'He doesn't have any original thoughts / Every gag he tells is either stolen or bought,' goes the first song about him.
That's sung by Billy Pearce, as washed-up 1980s act Stan Chester from Manchester, a one-time bill-topper, now bitter that he's relegated to the nostalgia slot on Munroe's Totally Saturday Night, but still caring about the 'comedians' code'. It's there he encounters hot up-and-coming act Scott Thomas (Owain Williams) making his TV debut.
Thomas is supposed to be young and idealistic, yet his ambitions seem to be to get onto The One Show and Strictly Come Dancing. It's not the only time where writers Daryl Denham and Maurice Cheetham (the duo behind the Crazy Frog irritant of 2005, no less) misjudge the modern circuit... as they seem to be more at home with old-school club sensibilities. They certainly paint with a much broader brush than Trevor Griffiths' seminal play about joke-crackers as opposed to artists, The Comedians.
Stand-Up! The Musical also tries to depict authentic stand-up routines, which is always fraught with difficulties. For the hottest property in comedy, Thomas comes across as little more than a confident open-spot, with material that's nowhere near sharp enough, and delivered unnaturally – probably because Williams is an actor, not a comic.
No such handicap for Pearce, though, who absolutely nails his stand-up routine, packed full of punchlines close to his own style. The only flies in the ointment are a few homophobic lines, which can be explained in terms of his character's development as a closeted gay man, but which are received enthusiastically at face value by the audience. But Pearce is revelation here, showing not only a sharpness that's not always associated with old-school mainstream comics, but a dramatic heart and a powerful singing voice.
Relative newcomer Devon-Elise Johnson also stands out as Emma, the girlfriend of Thomas; in which Williams does a fine job when he's not expected to be a comedian. Lionel Blair is biggest name in the casting, delighting in playing a oleaginous agent, but while a tap-dance shows him sprightly at 81, the rest of his big number is underpowered compared to its Fagin-like potential.
That Stand-Up! The Musical only has such a limited run suggests it may still be a work in progress; and the script certainly has some major bumps. For one, it's not quite sure which story it's telling and which is the sub-plot – either the comic rivalry or the romance between Scott and Emma. Chester's home life hits problems out of nowhere, in a row too close to that between Munroe and his wife, as indeed echoed by using the same, rather grating, rock refrain. There are also too many cheap, cheesy jokes, on a level of the adulterous 'playing a round' on the golf course, delivered just as part of the narrative.
But crucially Denham, a commercial radio DJ who's written for Black Lace, and musician Cheetham need to spend more time in the modern stand-up circuit to bring credibility to that strand.
Yet the storyliness come together in a fine, emotional climax at the Royal Variety Show; and other songs do stand out, even if the pre-recorded backing track is a little tinny. Munroe's Mr Wonderful, with the backing dancers undermining his self-deluded boasts is witty; and somehow a string of pub one-liners work well when sung to a catchy melody, as musical comics have been aware for years.
Review date: 6 Sep 2013
Reviewed by: Steve Bennett
Reviewed at: New Brighton Floral Pavilion
Musicals have taken their inspiration from some pretty unlikely sources, but it's still something of a surprise to discover that
Recent Reviews
What do you think?