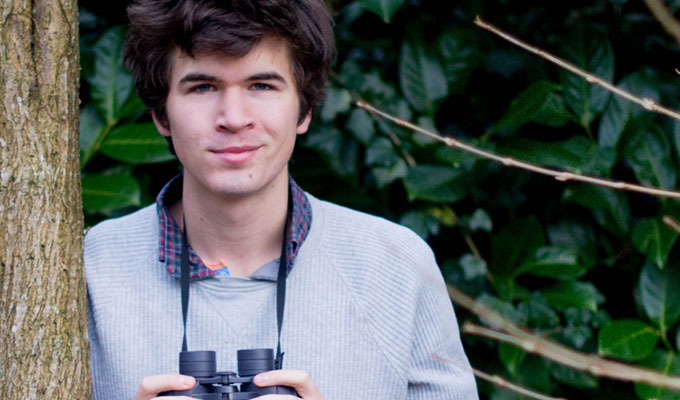 Ivo Graham: Binoculars
Note: This review is from 2013
Just a couple of things stop Ivo Graham's very strong Edinburgh debut from becoming essential viewing.
The first is the lack of experience to know not only when to stop, but to act on it – at least in this performance. Early on, he had some great sport with a German called Stefan on the front row, producing brilliant ad-libs and setting a playful tone.
But Graham couldn't help himself but keep returning to the banter with ever-diminishing returns – even though once he got into his engrossing story, all the audience wanted to do was hear him finish it. The young comic is aware of this, admitting that so late in the run 'you get bored of your material and want to chat to people', but it's still fresh to us, so the distractions become an irritation.
The second is that the whole show builds up to him losing his virginity... which he then tells us nothing about. I'm not the first reviewer to mention this, but even though it is a pretty obvious omission, reading out such criticism only highlights a big flaw to the audience.
But enough of that, let's move on to the positives, which are legion.
Graham is from the anti-lad school of comedy – and what a big school that is. A sympathy-seeking low-status comic, despite his posh background, he's more at home with the Historical Board Game Society than necking lager and 'annihilating' women. He has his own, much more accurate, euphemisms to describe his coy interactions, which normally place him very much in the 'like a brother' zone.
He's very much like a young, real-life Alan Partridge, taking minor responsibilities incredibly earnestly, being censorious about drug use and boasting about achievements in the most uncool pursuits as if they were sporting glory – all in the most formal, precise language.
The material is eloquent, crafted and layered. Callbacks aren't laboured, but dropped in subtly. He social awkwardness in real life is bolstered on stage by an underplayed confidence that comes from knowing you have a great script and an underdog charm.
This is essentially a 40-minute show, with 10 minutes of audience distractions and a 10-minute postscript as, Graham halts the story about his youthful fumblings with life to bring us up to the present day, living with his gran. This is essentially a nice, witty story about hunting bargains on Ambrosia Rice even if it misses some of the convincing sense of self he conveys in the bulk of the show.
Nonetheless, this is a remarkably assured debut from Graham, just a few tweaks off excellence.
Review date: 25 Aug 2013
Reviewed by: Steve Bennett
Recent Reviews
What do you think?