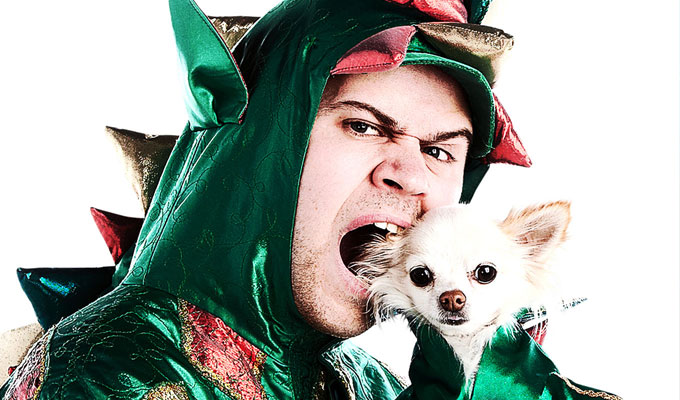 The Piff The Magic Dragon Show
Note: This review is from 2013
The most charismatic star in magic is back at the Fringe – again accompanied by a grown man in a dragon suit.
Mr Piffles, the permanently bewildered chihuahua, even puts his cute life in danger, thanks to a twisted version of Deal Or No Deal, in which he's hiding in one sealed box as the others get brutally destroyed. The trick is impressive but, as usual, played down by Mr Piffles's grumpy human sidekick, Piff The Magic Dragon.
For those who have not enjoyed Piff's phenomenally successful YouTube clips or appearance on Penn & Teller's Fool Us, he is the morose face of magic; more Jack Dee than Las Vegas showman.
Since they are so undersold, his tricks have to speak for themselves; and they do. He sinks spikes into a cardboard box containing both Mr Piffles and his equally glum assistant Miss Amy Sunshine, pulls off an impressive finale that's so much more than a card trick, and indulges in some mind-reading courtesy of mentalist goldfish Darren Gold, only slightly hampered by the three-second memory. And given Piff's relaxed attitude to animal welfare issues, it's only a matter of time before the tiny orange guest star is in peril.
Piff gets some comic mileage from his gruff demeanour, especially in the wearily disappointed tone he takes with audience members who don't do precisely what he wants. But the listless delivery wanes a little over a full hour and lack of pizzazz inevitably diminishes the wow factor of the illusions. However squaring what has become his distinctive USP (aside from the whole dragon thing of course) with a livelier atmosphere will be a challenge.
Still, this is dependably entertaining and amusing stuff, with tricks more amazing than Piff gives credit for, and possibly my favourite tortured pun of the festival, as he suggests an alternative name for his glamorous assistant. Now that's magic...
Review date: 25 Aug 2013
Reviewed by: Steve Bennett
Recent Reviews
What do you think?