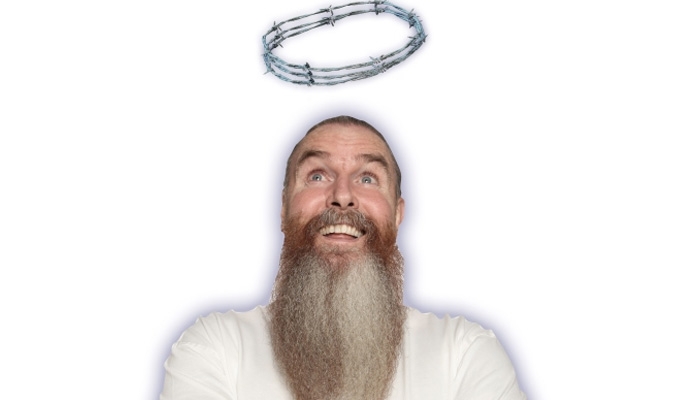 Martin Mor: How Do You Like Your Blue-eyed Boy Mr Death
Note: This review is from 2013
As has often been noted, comedians don't experience personal misfortune in the same way as other people. Even when he was trapped in the wreckage of his car after a high-speed motorway crash, Martin Mor's initial instinct was to take a grinning photo and tweet it, before cracking a joke at the policeman who arrived on the scene.
Mor emerged unscathed from the February incident, despite his Honda Civic being a total write-off, but the crash gave him pause for thought, and indeed, his Edinburgh show. Reflecting on all the other times he's cheated death, Mor, an accomplished, bar-room storyteller, scarcely shocks you when he reveals that several of these tales begin with the imbibing of alcohol. An especially memorable incident involved a barely conscious German who shot at the Northern Irishman for being English.
Atypically on the stand-up circuit, Mor has little trouble admitting to being superstitious, kissing the threepenny bit he wears round his neck before taking the stage. Sharing the coin and various other religious knick-knacks around the room, he wants us to be as lucky as him he maintains.
Unfortunately, his suggestion that he's been infused with a new-found zest for life comes across less as genuine feeling than a handy premise, regardless of whether it's true in reality. That's probably got a lot to do with Mor's easy affability and inclusive style, skilfully teasing anecdotes out of the audience to support his own, keeping the hour ticking along amusingly. But there's not the compelling feeling of jeopardy that other comics, some younger, and frankly, less reckless than the have-a-go 48-year-old, are bringing to their shows.
So when Mor tells you he's drawn up a bucket list and is facing his phobias, you take it with a pinch of salt. Skydiving, colonic irrigation and Thai massage are familiar stand-up anecdotes, especially for male comics of a certain age. But Mor relates these experiences with fluid, animated verve and a roguish glint in his eye, the mischievous bastard having a few tricks up his sleeve yet.
He closes with what he describes 'the most beautiful moment of my life,' a narcotics-induced trip in the Mexican desert with a bunch of American fratboys. His conclusion is trite but he takes you on a winding, entertaining journey to reach it.
Review date: 21 Aug 2013
Reviewed by: Jay Richardson
Recent Reviews
What do you think?