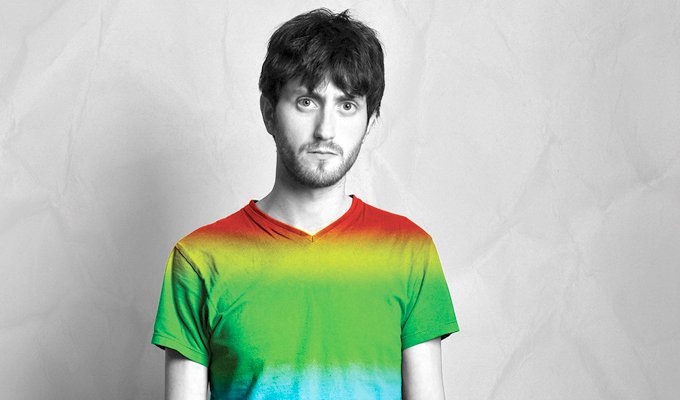 Jay Foreman: No More Colours
Note: This review is from 2013
Musical comic Jay Foreman is performing at the Pleasance Green, an inflatable igloo, half-filled with beanbags for seating, primarily designed for children's shows during the day.
In some ways, it feels as if he has shown up a few hours too late. His melodic strumming, whimsical lyrics and low-key charm would be perfect for youngsters. As, indeed, would some of the songs, such as the gently surreal Caterpillar Sick, which describes an alternative fuel source for his car, or Grandma's Food.
He has previously released a CD of kids' songs; but this is an adult show. And even though we all know that, it still comes as a shock when he uses a naughty word, or subverts the conventions of bedtime storytelling.
Perhaps as a move to distance himself from that image, he tells us: 'I'm a cynical bastard.' But no one believes him; for most of the show there appears not to be a jaundiced cell in his body.
Then he'll go and throw in a mean-spirited quickie about comedy's loveable uncle, Barry Cryer – the joke being that it's so unjustifiably harsh – and demonstrate some grit. But it's not really him; even the title song, which he intended to be a bleak cautionary ditty about the shattering of childhood wonder ends up having a joyous ending. Foreman has a veritable silver linings playlist.
He continues to charm in the banter between songs, which largely serves just to set up the next number. But he's got a loopy tale of his grandfather turning into a clock, which has a nice twist, and shares with us an invitation he received to speak at an Indian conference of toy manufacturers after being confused with another Jay Foreman (the 'real' Jay Foreman our one calls him), who happens to run the biggest producer of Justin Bieber dolls. He was going to take the free trip, too, until he remember his mantra: WWRH, what would really happen?
The whole show is classy but low-key entertainment, as Foreman downplays his considerable talent. Although he does get to show off a fantastic feat of memory in his Tube song, which packs the names of all London's 270 Underground stations into one epic, and impressive, tongue-twister.
Review date: 20 Aug 2013
Reviewed by: Steve Bennett
Recent Reviews
What do you think?