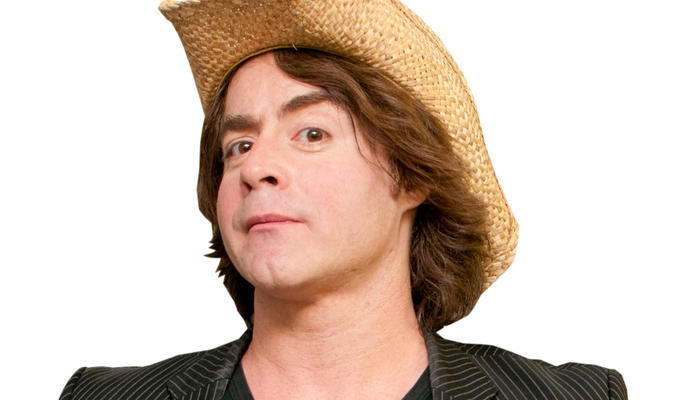 Christian Reilly: Songs Of Praise
Note: This review is from 2013
Christian Reilly wouldn't be the first rocker aiming to bring world peace through song. Unlike the earnest troubadours he so brilliantly pastiches, though, he's clearly taking the piss, cranking the irony amp up to 11 even though he's only got an acoustic guitar.
Immediately establishing his musical chops with an analysis of the emotional heft of different notes, playing a decidedly downbeat version of the Friends theme and highlighting the repression inherent in Christian rock, his Ballad of Carol Vorderman is an arch reflection on the merciless passage of time, not without sympathy for an accident she suffered but still scampishly cheeky. Considering maths for a moment, he contemplates the seduction of his 15-year-old charge by teacher Jeremy Forrest, amusingly blinded to social convention by self-serving multiplication.
Reilly's default vocal is a plaintive, Jon Bon Jovi-style, blue collar whine, a voice that 'makes everything sexy' - even, as he ably proves, a good, old-fashioned Cockney knees up. With the swagger of the gigging musician he once was, and the slightly faded good looks of a singer past teen idol prime, he's well positioned to undermine rock 'n' roll glamour.
Equating falling in love with getting into a new band, tellingly, the fact that he characterises a failed marriage as a sticking CD with nightmarish hidden tracks, reinforces the impression that he's not fully down with the download generation.
Not that that prevents him performing Song For The Young People, a dexterous, spoof medley of the current charts that impresses more for its accuracy and commitment to robotic vocals, than the throw-everything-at-it humour.
Elsewhere he's subtler and more specific, dismissing the oeuvre of Bruce Springsteen, the Red Hot Chili Peppers and Mumford and Sons in pithy soundbites, before singling out Muse for special treatment, capably conveying the corporate whoring in their inconsistent, space opera posturing.
Lest the satire becomes too right-on though, there's a rather daft, overloaded metaphor of a guitar as a symbol for racial harmony, very much in the vein of Flight Of The Conchords. And he retains some broad topicality with some throwaway channelling of Joe Dolce into Frankie Dettori's recent travails with cocaine.
A fine impression, but an obvious pairing perhaps, he follows that with a much less predictable homage to Margaret Thatcher via the Foo Fighters' snarling Dave Grohl. The incongruity proves such a hit that he encores the trick, this time with Jimmy Savile and The Arctic Monkeys, challenging the crowd to join him in wickedly chorusing the late paedophile DJ's distinctive catchphrases and ululating yodel.
Between the tunes, Reilly is naturally funny and sarcastically engaging and you almost wish he deployed the guitar a bit less. Regardless, this is an assured and mischievous hour that effectively sends up the messianic rock star ego.
Review date: 19 Aug 2013
Reviewed by: Jay Richardson
Recent Reviews
What do you think?