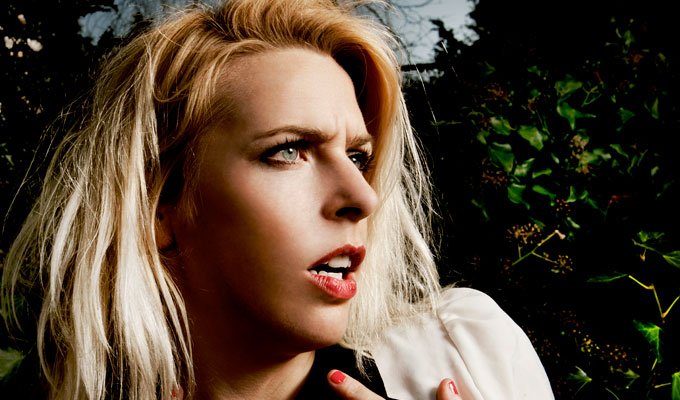 Sara Pascoe Vs The Truth
Note: This review is from 2013
Sara Pascoe comes on stage in a T-shirt printed with a Nietzsche quote. Yes, she says, she's aware she's spelt his name wrongly. 
This display of intellectualism undercut by goofiness proves a prescient start to a show that flip-flops effortlessly between heavyweight and lightweight, genius and madness, underpinned by Pascoe's wide-eyed, self-aware charm.
The Nietzsche quote – that there are no facts, only interpretations – acts as umbrella for an unruly collection of thoughts. Does it matter that you're not wearing any shoes if you believe you are wearing shoes, for example? How does she know who she is and if she doesn't, is it possible that her boyfriend is accidentally cheating on her with her doppelganger?
It's as much a thrill to watch Pascoe bouncing on the high wire between utter nonsense and something much bigger as it is to watch her unpack seemingly absurd statements comparing fallen Big Brother star Chantelle Horton to Goethe's Faust, or setting the Jesus story against the rather less magical story of her own conception.
Even as she's putting out the suggestion that her cats fancy her or that hairdressers make such banal conversation to hold off the powerful erotic charge of their touch, she's gently deconstructing it all, leaving the audience in a glorious muddle about how seriously to take any of this stuff.
Not all of it hits the mark comedically - she makes some great but not particularly hilarious points about feminism and veganism - but it's still an absolute pleasure to listen to the machinations of her quietly warped mind. 
Review date: 18 Aug 2013
Reviewed by: Nione Meakin
Recent Reviews
What do you think?