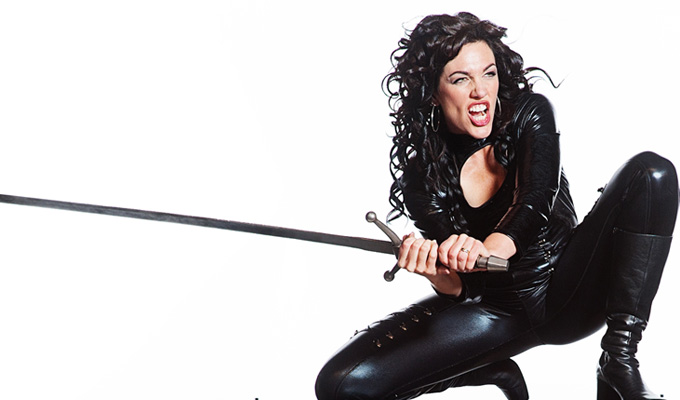 Katie Goodman: I Didn't F*ck It Up
Note: This review is from 2013
New Yorker Katie Goodman is a fine musician with a cracking voice and a spirited delivery, but she struggles to find a rapport through her comedy of obvious gags and simplified liberal tub-thumping.
She seems to misjudge festival audience from the start, assuming we are either already familiar with her biggest hit, or at least willing to join a singalong of it, despite it being 4.30pm and us being largely unexpressive Brits. Throughout the show, Goodman and the audience didn't seem to be on the same page, whether in terms of the energy of the gig or its content.
That hit is the titular I Didn't Fuck It Up, which is approaching 500,000 YouTube hits, decent but a long way from LOLcats territory. Most of us are here on a simple punt, I'm sure, rather than being existing fans. Although the central idea of us all doing our bit to 'unfuck' the world is a nice one, the wit song relies too heavily on the perceived shock of dropping the F-bomb into an earnest guitar song.
Most of the rest of her catalogue falls into one of two camps, what she calls 'narcissistic self-referential' tracks or the political stuff. Oh, then there's the song about what it must be like being a sperm, being jettisoned to your death on a shower curtain – already the stuff of hack stand-up even before you consider the glut of girls singing dirty songs.
Elsewhere, her strong attitude sometimes collides with strong writing to produce a witty aside or nice turn of phrase in her lyrics; but primarily it's the quality of the music that's providing the entertainment and propping up weak comedy.
In the personal songs, she covers the multi-tasking demands of being a working mum, wonders 'why is this shit always happening to me?' (ooh, she said a naughty swear again!), plants the idea that she's a MILF and, as a 40-year-old, pre-empts her mid-life crisis.
On the political side, those songs are defined by the divisively binary nature of much of the discourse in the American media. She comes out against the Tea Party – big shock – and in favour of gay marriage, putting down opponents with the familiar 'if you're homophobic, you're probably gay', and citing a string of examples, high-profile in the States but barely known over here. Goodman may be on the correct side of the divide, but defining herself solely by what she's not, and in such basic terms, does not make for particularly interesting lyrics.
It's not just her specific references that don't work, but more an understanding about what are the hot political issues here; and more general nuances of society. Her encore song all about Soccer Moms, for example, assumes we care about an archetype we're aware of, but don't really know.
Incidentally, the haste of the unasked-for encore (encores almost never happen at festivals)  was probably the funniest thing of the show. She wrapped up, took about three steps as we prepared to leave, but was back at the mic in less than six seconds. Just another moment to make it feel like performer and audience weren't on the same wavelength at all.
Review date: 17 Aug 2013
Reviewed by: Steve Bennett
Recent Reviews
What do you think?