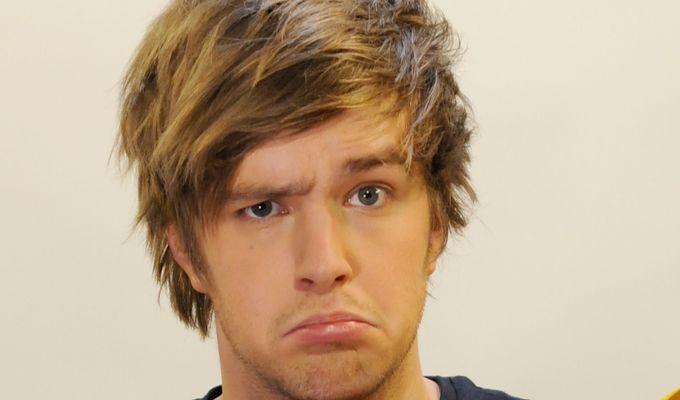 Iain Stirling: At Home
Note: This review is from 2013
At just 25, Iain Stirling is a frighteningly accomplished comedian. Although he's had some practice – he won a couple of awards while still at university and has done a stint as a CBBC presenter –  it's hard to believe someone young enough to shrug off Margaret Thatcher as 'an old lady who died' is already this at ease in front of an audience.
This natural talent has been cultivated of course. He's bald in his ambition to get into lucrative TV jobs, joking that he'll be one of those under-represented right-wing comedians if it helps him get on Mock The Week. Armed with new geek-chic glasses to help distinguish him from the competition, it's surely only a matter of time.
Like so many 20-something comedians, Stirling's interests are fairly parochial. The theme of this particular show is home and what that means to a Scottish lad deposed to leafy Richmond, living with his girlfriend for the first time. It's a safe topic for observational comedy and Stirling wrings the most out of it in anecdotes about social faux-pas and the reality of the north/south divide. 
Although it's hard to think of a comedian on the Fringe who hasn't poked fun at Scottish accents, Stirling's take on it, which imagines the diminished effect a Glaswegian accent would have had on Harry Potter's Professor McGonagall, is enjoyable all the same. And this ability to say very little in an entertaining way is Stirling's most marketable skill as a comic, especially if he wants to do TV.
Few could fail to be amused by his animated recreation of taking his girlfriend to an awards ceremony and watching in horror as three bottles of white wine kick in. There's also a unanimous laugh from the audience when he produces a photograph of the two of them - visual evidence of an earlier gripe.
Although one has to question how much the world needs another Russell Howard, it would be curmudgeonly to deny Stirling has comedy chops. Expect to see him on a TV screen as a stand-up, not a kids' presenter, soon.
Review date: 17 Aug 2013
Reviewed by: Nione Meakin
Recent Reviews
What do you think?