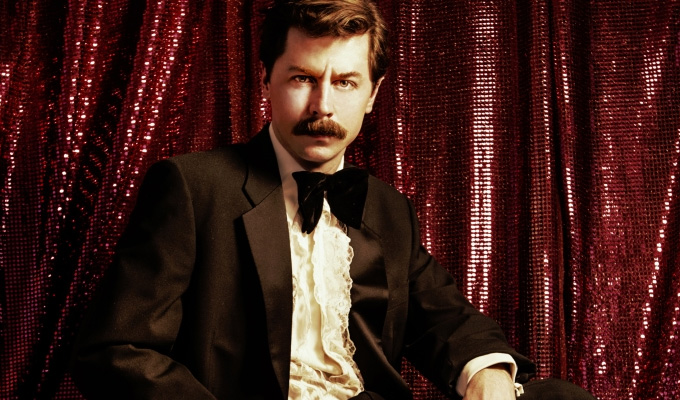 Mike Wozniak: Take The Hit
Note: This review is from 2013
Ah, the Edinburgh Fringe, home to all that is alternative and different... such as a man in a velvet bow-tie and frilly dress shirt spending an hour telling us jokes about his mother-in-law in front of a sequinned backdrop.
Yet Mike Wozniak quietly subverts the dated genre, the evil thoughts he harbours towards the woman coming from the heartfelt frustration that she has moved into their tiny Exeter house and decided to stay forever, invading his personal space, rearranging his back yard and playing havoc with the toilet brush.
This is all starts as a minor digression from him 'doing his showbusiness' to this midday crowd – 'I'm not going to bang on about this, obviously' – but the niggles end up consuming the hour, just as they have consumed his life.
He finds room to incorporate some more traditional stand-up fare, too, even while maintaining the idea he's being distracted from the real show. His observations on the bucket lists of things to do before you die are exquisite; there's a lengthily surreal chunk about police horses (that's perhaps a bit too lengthy, but gives him a chance to flash some physical comedy skills) and comments on the sexualisation of children in advertising that end with him awkwardly embarrassed. Again.
For his character – and there's very little pretence that this is the 'real' him – is an apparently affable mild-mannered Everyman, trying to do his best in life despite every frustration, all of which lead him into unusual situations. He's a slick, confident performer, in need of no grand gestures or passions, holding the room through his assured charm.
There are also neat parodies of entertainment practice, such as his desperation to find common ground with the audience, or how he practices his acting skills. It all builds nicely, with jokes that are both sublime and subliminal hung onto a format that allows – nay, demands – digression, but also provides a neat through line and smart callbacks that prove satisfying.
Review date: 13 Aug 2013
Reviewed by: Steve Bennett
Recent Reviews
What do you think?