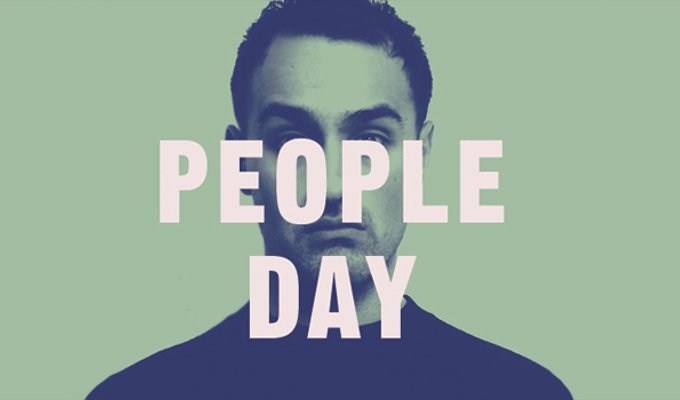 Jamie Demetriou: People Day
Note: This review is from 2013
This may just be the best character comedy show on the Fringe. The supranaturally talented Jamie Demetriou has created a quartet of strikingly original personas, disconcerting, nuanced and free of stereotype – and performs them with such conviction and talent that it's hard to believe it's the same guy inhabiting each of them.
We start with a tongue-tied performer, an urban youth of indeterminate accent and ethnicity trying his best to entertain the audience through his unaffected charm. Only problem is, that he is a musician – or at least a wannabe musician – and we're all expecting a comedian, so he must battle to make that work.
Bad stand-ups performing anti-comedy, either deliberately or otherwise, are ten-a-penny at the Fringe, but Demetriou makes him so earnest, likeable and enthusiastic that you root for all his desperation to pay off. The poor guy, Kern, is trying his best but poleaxed by circumstance.
Demetriou returns to the world of the performer for his final character, Michael, a pseudo-suave lounge-room entertainer and absent father, suffering a collapse of bravado as his miserable life emerges.
His other two creations demonstrate two sides of the same coin. The first is a sinister, aggressive nanny, whose insanity is revealed to plunge new depths at every turn and with every primal scream. Meanwhile his defenceless choirboy is on the other end of such dreadful behaviour, mercilessly bullied by the other singers. We feel every ounce of his pain as his situation gets ever more pitiful.
These bold, fully-fledged characters, misfits all, could have crawled out of Royston Vasey; so evocative are they of a wider, weirder world. Plus Demetriou has the confidence – as well he might – to play with the format, breaking the fourth wall for playful audience interaction or banter about the usual travails of the Fringe. Among them is the fact he's got laryngitis... so what he must be like when performing at full strength boggles the mind.
The hour is endlessly intriguing – if occasionally a little too intimidating or bizarre for the laughter to flow. Demetriou's solo debut was largely ignored last year – but has most definitely made his presence felt now.
Review date: 12 Aug 2013
Reviewed by: Steve Bennett
Recent Reviews
What do you think?