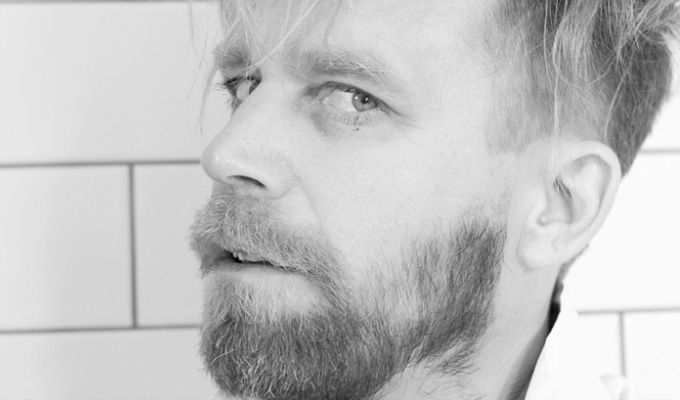 Tony Law: Nonsense Overdrive
Note: This review is from 2013
What's this? Wild-haired absurdist Tony Law relating a real-life story? Yes, even if he tells it with a Sopranos accent and more than the average amount of hollering, Law is tiptoeing into the style of the mainstream.
OK, so it's not exactly a straightforward anecdotal hour. It starts and ends in outer space, includes some bizarre chimeras from his imagination, and plunges into prehistory as we learn about the day sheep became domesticated. His tongue-in-cheek ambition of playing arenas and leaving behind his comedy geek following might still be a way off yet.
But there's a solid chunk of storytelling here, detailing a recklessly adventurous trip to Chile and the day he ruined his laptop, as well as observational shtick about him trying to be a middle-class dinner party host, despite his modest flat.
In fact, there's a little bit of everything as Law's scattergun brain assaults all manner of styles. The space bit, beautifully envisioned, starts from him noticing the prevalence of science-based shows, and decided to get a bit of the action, but with a difference: 'I'm not going to read any books on it.'
He also gets a little opinionated as he considers the role models his daughters are being brought up with; does some knowing comedy deconstruction – including mentioning most of the points that this and other reviews will mention, plus a jibe at Stewart 'Sacred Cow' Lee – and, of course, gets out-and-out weird.
Nonsense Overdrive isn't as perfectly packaged a slice of foolishness as his long-overdue breakthrough show last year, but retains an odd, shambolic charm thanks to Law's self-effacing likeabilty and willingness to mock his own failings. If a routine doesn't have an ending, he can joke about either how lazy he is – or how daring he is not to follow those tired old conventions of needing a punchline at the end of a joke.Is this genre-redefining rebellion, or a cop-out? Bit of both, really.
Law has a strong instinct about the unique comic path he's taken, and has the skill, experience and charisma to draw the audience along with him. Sometimes the freedom this gives him leads to wonderfully surreal comedy moments. But sometimes you feel he's winging it, too, knowing that the chaotic style he's created around himself is forgiving.
In one of his self-aware asides, Law notes that his new-found love of the true story shows his progression as a comic. Yes, it's a different direction for him, but also a small step back from the brilliance of his 2012 award-nominated show.
Review date: 11 Aug 2013
Reviewed by: Steve Bennett
Recent Reviews
What do you think?