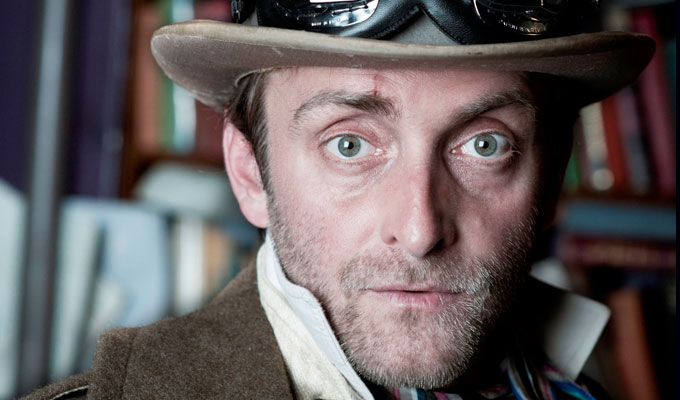 Tim Fitzhigham: Challenger
Note: This review is from 2013
If you like Radio 4, you'll love Tim FitzHigham, mainly because he's on it quite a lot. Despite spending a lot of his show darting manically around the stage, the presenter manages to retain a moderately distinguished air. In fact he looks a bit like a version of Eddard Stark from Game of Thrones, but played by Richard Hammond instead of Sean Bean.
A compulsive self-challenger, Tim uses his show to talk about his recent CBBC programme in which he attempted to beat several world-record holders at their own game. These challenges included free climbing one of the tallest buildings in the world, almost freezing himself to death in Iceland and discovering that he has a surprisingly high tolerance for G-force.
It's nothing out of the ordinary for a man who once rowed a bathtub across the English Channel in a Category 7 storm, but it does make for very engaging and interesting material. It's not the most rib-ticklingly hilarious of shows, but you do feel in the presence of someone out of the ordinary.
Cynics might describe that 'out-of-the-ordinariness' as blind insanity and the sequence where he shows a film of himself standing on one leg for 12 hours doesn't really help that. But the whole point of the show is to push yourself to do things that you didn't think were possible. After all, Tim competed against several world record holders and discovered that he could usually match their skills and (on occasion) beat them at their own game.
It's pretty astounding, and potentially explained by the fact that Tim seems to be constantly filled with boundless, frenetic energy, as if he's just had twelve Red Bulls with an espresso chaser. Unfortunately this excess of mental energy causes his mind to wander at times, meaning the show tends to feel scattered. A section where he (rather randomly) chats about devolution in a very English way certainly doesn't sit comfortably with the more Scottish members of the audience, coming as they do from a man with crystal-clear East Anglia tones and a look of crumpled gentrification.
However, Fitzhigham does a good job at getting them back on side and by the end of the show they – like everyone else- are quietly agog at the sheer number of ludicrous and dangerous challenges he's survived. Challenger might not be the funniest show at the Fringe, but if you like your comedy polite and informative with a side helping of insane jeopardy, you'll certainly enjoy it.
Review date: 10 Aug 2013
Reviewed by: Hilary Wardle
Recent Reviews
What do you think?