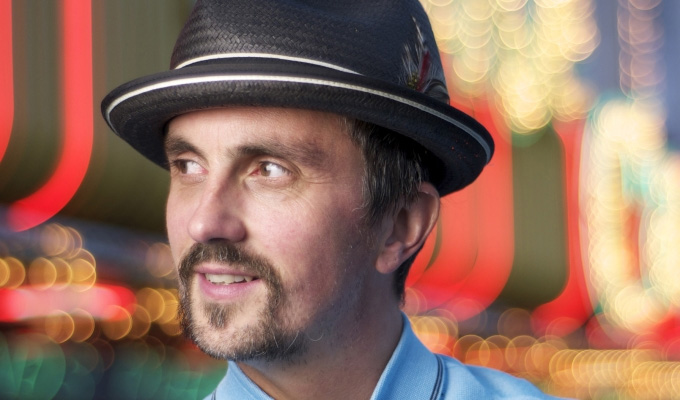 Markus Birdman: Happily Ever After
Note: This review is from 2013
This is another fine hour from Markus Birdman. Building on the success of last year's show about the stroke he suffered, Happily Ever After is a dissection of the end of a relationship and its aftermath, with a cool look at marriage, religion, sexuality and romantic archetypes. And it's a whole lot more fun that suggests.
Birdman cuts a dashing figure, elegant, poised, smart and theatrical. Performing against an intricately drawn backdrop of skeletal couples and storm-tossed waves it's all a bit Pirates Of The Caribbean meets the Mexican Day Of The Dead, entirely appropriate to this highly decorated performer. It's reassuring to see that pains have been taken to make this a polished show. If it looks this good, you can hope that the content will be equally well honed.
To ease himself, and the audience, into the show he recaps the salient points of last year's show – having a stroke, surviving well and determining to live his life once he's shaken off the survivor guilt for making it out of intensive care alive.
The is a dense show and although he sometimes deals with stock subjects, there's an abundance of wit and honesty that lifts it way out of the ordinary. He doesn't paint himself particularly heroically – he's volatile and quick totake offence, even from an eight-year-old, but there's an unsentimental emotional core to this, which gives depth to the barbed observations and knowing sexual undercurrent .
This is not a vulgar or explicit show, but certainly 'contains adult themes'. It's not only about romantic love, there's the passionate love of family, for his parents, for his children and an incisive approach to championing same-sex relationships and marriage. It's a hugely entertaining hour of thoughtful, heartfelt mature comedy, performed crisply with great energy and dynamism.
Review date: 10 Aug 2013
Reviewed by: Julia Chamberlain
Recent Reviews
What do you think?