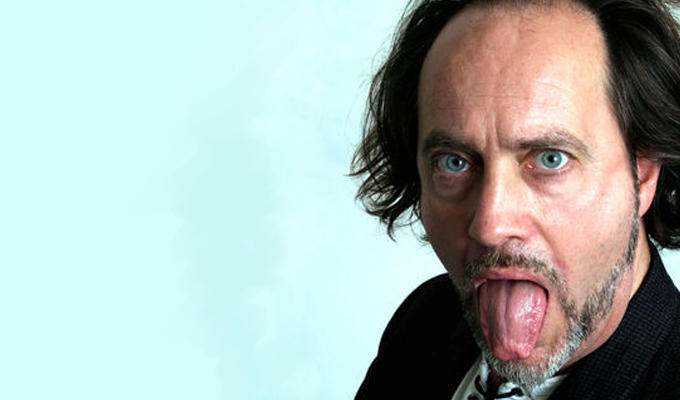 Ian Cognito: The Trouble With Comedy
Note: This review is from 2013
Like David Baddiel, Ian Cognito is back on the Fringe for the first time in more than 15 years. And that's where the similarities end.
While Baddiel, in his sizeable theatre and with the backing of one of Britain's biggest comedy agencies, talks wittily about his life hob-nobbing with A-listers; Cognito is doing a free late-night show in a basement bar yelling to anyone who'll listen about how he's never been on TV and has been banned from more comedy clubs than any other stand-up. Both, though, are being perfectly candid.
Cogs, as he's known on the circuit, exudes a visceral, confrontational dominance that would never fit on the box, but is perfect in this subterranean environment, both literal and metaphorical. He's coated in sweat, as he belts out his gags and races through the ups and downs of his 30 years on the circuit. He's not trying to be a likeable everyman, but the splenetic, opinionated loudmouth in the spotlight vehemently insisting: 'I'll say what I like, and I like what I say.'
That defiant, and almost unique, refusal to compromise has surely cost him fame and money – that and the awkward reputation for being dangerously unpredictable. There may be some underlying bitterness and rage at the way it's all turned out for him, but these days his performance seems coloured by the acceptance that he's made his bad, shat in it, then smashed it up with a hammer – and now has to lie in it.
With his V For Vendetta facial hair, he still cuts a rebellious figure at 54. There's a frisson as barges through sensibilities with the unstoppable intent of a runaway train. But the in-your-face intimidation is the right side of playful, even if it feels that a single wrong word would set him off like so much C-4. This is not a comic you'd want to heckle.
But Cognito is not all swagger. While exuding this ballsy attitude, he strikes a gag rate that's hard to top, although admittedly he draws from material penned over the full lifespan of his career (if we can call his years in comedy something so formal). There are gags here about Ronald Reagan, and the first tampon adverts on TV (1986). He must surely be the only person who's done a Brian Walden impression in quarter of a century. Something for the kids there.
They are proper, sharp jokes; and care little for concerns of political correctness, even tricking a liberal festival audience into laughing at a wife-beating gag. You can tick off paedophilia and victims of Thalidomide from the bad-taste I-Spy, too. But he's the butt of more jokes than anyone else.
Occasionally he stops during a laugh to gaze purposefully at the oversized stein of Guinness he's brought on stage. He's a proud man in all senses of the word: noble, arrogant and content with the gags he's cracked – and this pose perfectly underlines the point. A smattering of songs, usually jaunty, occasionally poignant, pepper the set.
He admits to being an aggressive, angry man who's screwed up in the past; but in mitigation he offers that at least he's funny. That is beyond doubt.
Review date: 8 Aug 2013
Reviewed by: Steve Bennett
Recent Reviews
What do you think?