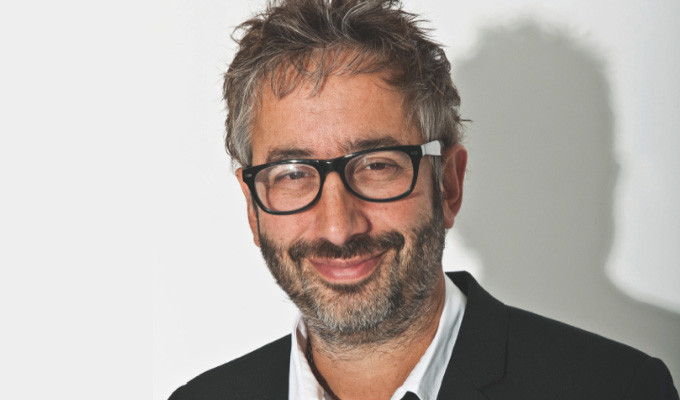 David Baddiel: Fame, Not the Musical
Note: This review is from 2013
Comedy's usually a good way to discuss taboos; and here David Baddiel tackles something that some of Britain's biggest comedians don't like to mention: the fact that they are famous. Saying as much immediately makes you out to be a bit of a nob – and since it appears a lot of people already hold that opinion of Baddiel, it might be thought a bit of a risk to mention it.
But here is an hour of witty, incisive and self-deprecating anecdotes about what it's like to live in the public glare, deployed to illustrate a thought-provoking talk on the nature of celebrity.
Baddiel's well-placed to commentate on this. He's famous enough to be spotted, usually doing something humiliating, even if those doing the spotting sometimes can't quite place him. After all, it's been a while since he's been in the full glare of the media spotlight – and 16 years since his last stand-up show.
Still, he talks about bad reviews that sting to this day; about the Twitter abuse he receives because the public dehumanise celebrities (which certainly explains a lot of the vitriolic trolling currently in the news); and about invasions of privacy.
His level of celebrity also means he is thrust into awkward encounters with those far more famous than he. At times, this show is a veritable Hello! magazine of name-dropping, with an A-list cast that includes Madonna, Andrew Lloyd Webber and Russell Brand, only the latter of which he's actually friends with.
But there's good reason to mention the circles he move in. For each time he meets an A-lister, he seems to make a klutz of himself in their presence, just as ordinary Joes like us might – only his shame is painfully exacerbated by the fact everyone knows who he is. Everyone except the theatrical Lord, that is, who remains convinced Baddiel and Ben Elton are one and the same.
In the public, and the media's, eye, Baddiel has to fit the role of a two-dimensional character playing a fixed storyline in the never-ending soap opera of celebrity. His role is part-lad, thanks to Three Lions, part aloofly arrogant North London intellectual. The reality, based on his agreeable hour, is of a much more balanced human being, aware of his failings, his image – and what makes for a strong stand-up show, as engrossing as it is funny.
Fame: The Musical should restore some empathy for Baddiel among those who see it; although combatting the 'tsunami of negativity' online might prove more challenging. But one thing's for sure, he shouldn't have to fret about any bad reviews on the back of this impressive comeback.
Review date: 6 Aug 2013
Reviewed by: Steve Bennett
Recent Reviews
What do you think?