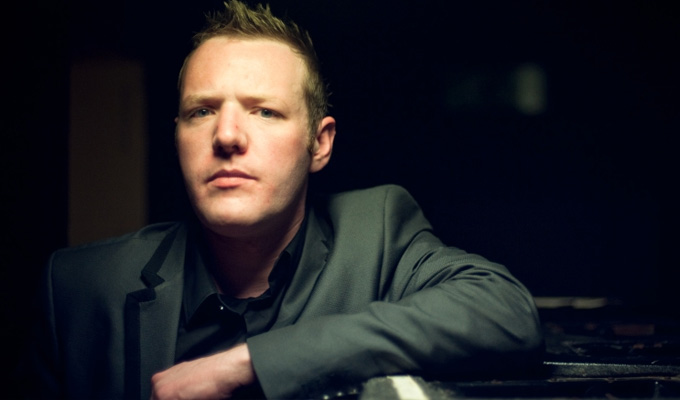 Scott Agnew: Something's Gotta Give
Note: This review is from 2013
Scott Agnew is a terrific performer with funny bones who could make a shopping list entertaining. A born storyteller, his show embraces the spirit of the Fringe as, liberated from the constraints of circuit obligations, he gleefully has a go at stuff that he wouldn't normally have the leeway to do.
A musical number to open, hilariously un-synced, moving in and out of the light. For once I could genuinely say there were flashes of brilliance, because that's how it appeared – now you see him, now you don't.
But then he settled, focused and held court as only a 6ft 5in Glasgow 'poof' – as he describes himself – can. Despite a filthy tongue, he's superbly likeable, which takes the heat out of none-too-playful digs at the English and groundless rudeness about American tourists. But this was just while he was compering himself on for the night.
  The show is about needing a break, wanting just a bit of good luck from the wheel of fortune, which has been on a merciless downward trajectory for him.  His philosophy is DO sweat the small stuff, we can all handle an epic crisis, but it's the daily grind of poverty, missed trains, petty officialdom that will send you over the edge; failed relationships, festival food and his own body in rebellion providing grist to this mill. 
On this first Saturday performance, the show was still finding its sea-legs, with Agnew over-exuberant and a bit undisciplined, I had the feeling he was more 'in the moment' with the lovely weekend audience than he was about delivering his written show. But all the elements are there for cracking entertainment. 
It's a late-night show because of the bawdy sexual tone of some of the material, Agnew has naughty boy qualities which aim to shock, but contrast with his ability to tell a running story and sketch a character with a few vivid well chosen words.  He brings a lot of heart and soul to the stage, with a winning vulnerability without a shred of sentimentality.
Something's Gotta Give is a show that is warm and scabrous by turns, but Agnew needs to rein in some the energy and pay a bit more attention to the train of thought.
Review date: 5 Aug 2013
Reviewed by: Julia Chamberlain
What do you think?