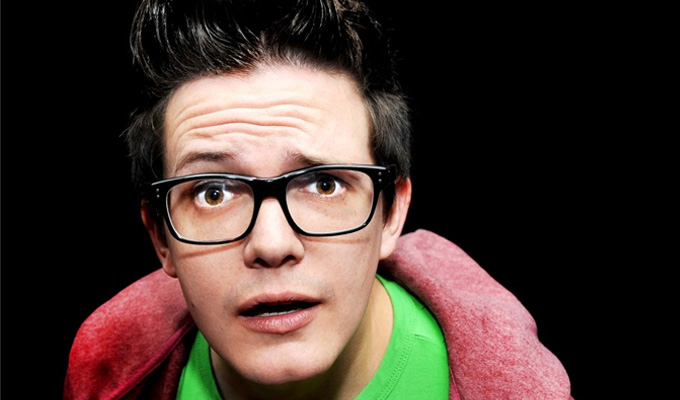 David Morgan: Pretty
Note: This review is from 2013
It's impossible not to like David Morgan, not least because he personally greets every audience member as they come in to his venue. Although you might initially feel a bit taken aback at being effusively welcomed into a tiny black box by a young man with hair like a half-melted Mr Whippy, he soon puts you at your ease. In fact, if you get there early enough it's very likely that you'll be firm friends before the show even starts. He might even invite you round for tea.
This engaging chat continues throughout the performance. You feel drawn in to his circle of confidence, bigged up and repeatedly told that you, like the show's title, are pretty. It's like renting an extremely supportive and positive gay best friend for an hour.
He's also - crucially - extremely funny. There's so much pressure on Fringe acts to be edgy, experimental and out there that sometimes the basic requirement to make the audience laugh gets lost in translation. Not so David. His show is packed with witty, self-deprecating, clever gags that – thanks to his rapport with the audience- end up feeling like intimate inside jokes shared with a close pal.
Some of these take the form of anecdotes about times in his own past that he feels have shaped his own self image, including a music-based reaction to an agonising early break up that will leave you howling with (hopefully compassionate) laughter.
He also talks about his various dating misadventures, including an interesting look at the way people meet each other. As David is an out-and-proud kind of guy, he also chats about sex-radar apps like the fantastically named Boy Ahoy! and the difficulties that then ensue if one of those mucky hook-ups subsequently develops into a long term relationship. After all, would you like to have to admit to your friends and family that your partner saw your beef bayonet before he saw your face?
Although the majority of the show focusses on sex, dating and relationships and the effect those things have on your confidence, it's all delivered in an extremely cuddly format. In fact, he's so innocent, sweet and baby faced that even the slightly grubby jokes have all the naughtiness of an episode of In The Night Garden.
Basically, Pretty is the show about taking photos of your own genitals on a smartphone that you could- at a pinch- take your nan too. And what's more, she'd have a damn good time.
Review date: 4 Aug 2013
Reviewed by: Hilary Wardle
Recent Reviews
What do you think?