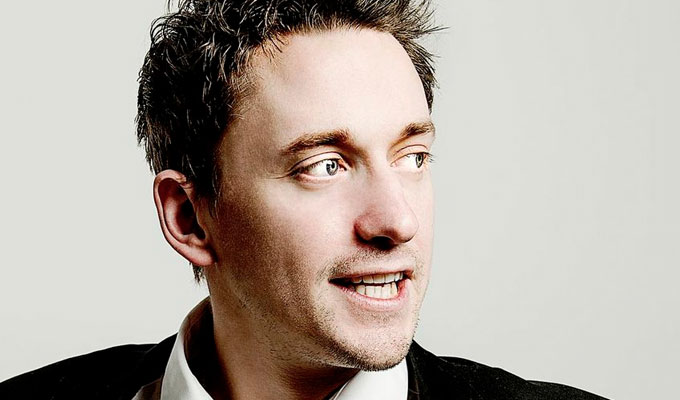 John Robins: Where is My Mind
Note: This review is from 2013
To say that John Robins is a god-like genius of ironic overstatement would be, well, overstating it. But it is a technique he's certainly mastered.
The audience are 'absolute power legends' just for applauding him, and each one of us is awesome, just for having a name. He, meanwhile, puts his tongue in his cheek to describe himself as an 'uber-dude' swimming in 'top-notch pussy'.
Nonsense, of course, but nothing like a bit of positive reinforcement to make us all feel good. And the ever-affable Robins's unquenchable enthusiasm fills this fantastically entertaining hour with life.
There are elements of Alan Partridge as he tries to act slick, but gets it a bit wrong. He wants to be imaginary alter-ego Zak Dudington, who effortlessly breezes through life with supranatural confidence and charisma, while in reality Robins is feeble man of modest ambition who commentates to himself as he successfully parallel-parks his 2004 Skoda Fabia and magnanimously turns a blind eye to music-lovers at the Reading Festival who may have smoked a 'doobie'.
In fact he's neither as cool or as uncool as either of the extremes. Although cursed with physical weediness, this 30-year-old is affable and charismatic on stage, confidently owning his humiliations so he can exploit them for our amusement.
Robins is also a gregarious compere, much in demand on the circuit, and here he puts those well-honed skills to excellent use, filling the room with cheerful energy and demonstrating a lightning-fast wit as he exchanges jolly banter with the front row, and never at their expense.
The thread of story is the best day of his life: August 24, 2001, when this keen indie-music fan goes to his first festival, also attended by the seemingly unattainable object of his affections; a moment frozen in aspic in his mind as the most perfect time possible.
That contrasts with his life now, which, in his skilful description, seems to be a never-ending slapstick comedy, with all manner of physical ailments and disappointing mundanity. Bodily failings are a comedy staple, but here he ramps up the laughs, as he does throughout the show, thanks to his effusive personality.
Robins seems to love being on stage, and laughs generously and infectiously, at his own situations. He can unleash passion when its called for, too: His incredulous diatribe at property prices in London, after moving from Bristol, is an exemplary slice of comic rage.
It's hard to shine through the forest of straightforward stand-ups at the Fringe; but Robins does so not with a high-concept but constricting theme, but just by being funny, joyous and charmingly self-deprecating. Fine stuff indeed.
Review date: 2 Aug 2013
Reviewed by: Steve Bennett
Recent Reviews
What do you think?