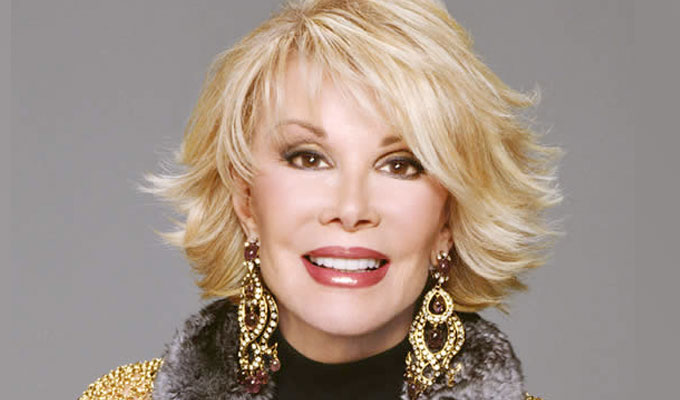 Joan Rivers Just For Laughs Gala
Note: This review is from 2013
With age comes dignity... unless you're Joan Rivers. Throwing decorum out of the window, she writhes around a grubby stage simulating awkward sex, barks like a dog, or scrambles to climb seductively onto the grand piano with all the grace of a dyspraxic giraffe on rollerblades. At 80, she's clearly not ready for the bide-a-wee rest home just yet.
That such an outwardly elegant octogenarian can demean herself with such outrageous behaviour and filthy talk about vagina farts and drooping labia gives extra frisson to a comic who's always traded in skewering sensibilities.
Vicious barbs are funny in the name of self-deprecation, but when fired outwardly there's a fine line between savagely funny and just unpleasant. When she kicks off talking about how Mexicans are ugly and stupid, it seems like bullying; and later she defends TV cook Paula Deane for using the word 'nigger' by scattering racial epithets around the auditorium in a rant that causes a little discomfort.
But the unstoppable ferocity of her delivery sweeps away any objections, and she's quickly on to the next tirade. A machine-gun broadside against Princess Diana is as acidic as it is iconoclastic, as she wonders whether William giving Kate her engagement ring wasn't sending out the wrong signals, given what happened to Diana's marriage. Somehow, Rivers neglected to do this material at the last gig Chortle saw her perform at – a benefit for the Prince Of Wales's charities at the Royal Albert Hall. But in most things, she's fearless as to whether she upsets sensibilities.
Next to Rivers, the acts she introduces in this matinee gala are bound to seem vanilla, and as always the rest of the line-up offered hits and misses in their short sets.
Australian Josh Thomas didn't really have to the time get beyond the basics of setting out who he is. Gay, basically. He has a couple of very nice lines about lesbians and Christians who've complained about his work; but the 'coming out' anecdotes seemed lightweight and this brief extract didn't really show him to best advantage.
Laurie Elliot was underpowered, too, with some comments on her appearance, romance going out a relationship and a proposed reality TV idea – but precious little of her essence came through. Then experienced Whose Line? improvisers Colin Mochrie and Brad Sherwood performed a scene with ever-shifting rules, a couple of which were particularly fruitful, namely the Dr Seuss rhymes and the 'if you know what I mean' segment, in which every line had to be a double entendre.
Jen Kirkman started on shaky ground –  if you have to spend more time explaining why the accent you've adopted isn't racist than actually doing the voice, it might be time to rethink. But she has very entertaining tales of being a cougar and just how young her prey was; and her pointed jibes at children and the women who had them are as funny as they are mean.
Lynne Koplitz was more of a fuzz; telling us about how she was letting herself go (despite looking pretty glam for this TV taping), just how tough New York is and how she'd turn a rapist into her boyfriend – but failing to land any solid punchlines on any of it.
But Tom Papa was the star of the night, with expertly-observed dispatches from the domestic disaster zone that is his middle-aged life, duty-bound to entertain his children, humour his wife and attend to late-night emergencies. His life is no longer his own, and he harrumphs amusingly about it all, while maintaining an affection to his family. 'Relatable', warm and witty, he feels like an Everybody Loves Raymond-style sitcom waiting to happen.
Review date: 28 Jul 2013
Reviewed by: Steve Bennett
Reviewed at:
Recent Reviews
What do you think?