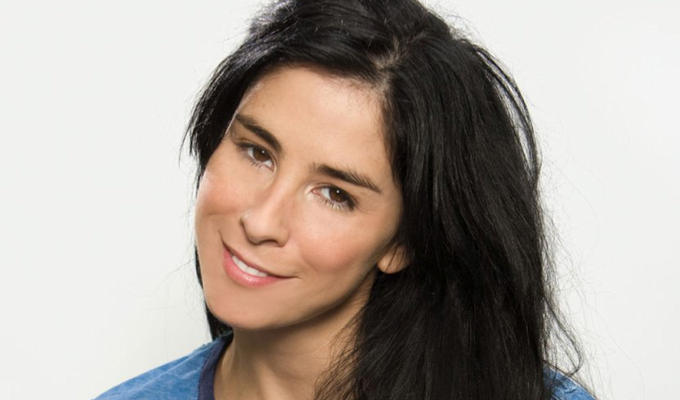 Sarah Silverman Just For Laughs Gala
Note: This review is from 2013
Two types of stars host the Just For Laughs galas: real comics like Joan Rivers, who performed a blistering chunk of her stand-up earlier this evening, or comic celebrities, brought in to read the autocue.
Silverman's the former but acted like the latter for much of the late show. The material in her opening monologue was solid, playing up the self-absorbed Jewish Princess persona as she told how travel had opened her eyes to the world. 'Mexicans aren't just illegal Americans,' she feigned surprise to learn. 'They have their own country. It's called Spain.'
A few other jibes were delivered with her trademark faux-innocence, as she revealed that she'd just done her first nude scene... when voicing the cartoon Wreck-it Ralph. But some of her barbs seemed oddly muted, and the songs she performed struck a dull note, trading on Canadian stereotypes. In the matinee, Rivers had done a gag Quebecois are like French people, but more pleasant, in a lean one-liner, as it deserves. A full song seems too much.
Opener Graham Clark, a Canuck with a beard you could camp in, occasionally slipped into the verbose, too – a gag about the world running out of helium took a long time to get to a conclusion you've probably already imagined. But self-deprecating jokes and comments about what lurks in the murkier nether regions of Craig's List hit the mark.
Emily Heller, one of Variety's 10 comics to watch this year, endeared with witty tales of being happy with her singlehood, though landing hard laughs proved more elusive.
Next up was the far more grizzled Todd Glass, walking out with an aggressive swagger he milked for all it's worth. But in contrast to all the eager young things with their seven minutes planned with military precision, he didn't seem sure what to do with the attention once he'd got it. 'TV sets are tough,' he muttered after hitting a pause, then going into a bit he joked 'won an award for the longest set-up'. Tellingly, his lack of slickness makes Glass a stronger act. Sure the gags are funny, but better is the fact it doesn't feel like we're watching an automaton recite the same lines he's done a thousand times before.
Marc Maron also said he wasn't prepared for the gala, then deciding that winging it was his 'system'. It's slightly disingenuous as even that 'system' routine hits solid punchlines, but there's a rare authenticity to Maron's work, as he regales us with the fantastic anecdotes he remembers from his drug-addled past.
Arj Baker delivered a disappointingly pedestrian set about dangerous Australian wildlife, generating electricity from gym cycles and losing a lot of money gambling – and was plainly outshone by Pete Holmes, one of the best about-to-break-though-big-time comics in the States. His cheerful, upbeat, optimism is welcome break from comic cynicism, and the majority of his set revolved around an entirely unironic night out at a Enrique Inglesias gig, which made him giddy with glee. He has the same affect on audience. He's about to become a late-night chat-show host, but here's hoping he doesn't abandon the stand-up.
High-octane silliness from Sam Simmons to close the show – a position no doubt chosen as his anarchic shenanigans are virtually unfollowable. Again, he won big by offering an unpredictable alternative to well-honed observational stand-up, flicking through a pad of his cartoons, diving into the audience to wrestle some poor patsy, and describing a prank to play at the $1 store. In isolation, not all of the bits work, but in overall effect the maelstrom of madness sweeps you up. Fine work.
And as a postscript, I was clearly situated in Cocks' Corner of the audience (no obvious jokes about why that might be, please). To my left a man who texted throughout the show, to my right a knuckle-headed heckler who twice hollered out an unfunny local reference during Maron's set - from all the way back in row U - and in front a couple who spent about half the time taking pictures of the Place Des Arts architecture, in search of the perfect phone wallpaper. Comedy's not background noise, folks.
Review date: 28 Jul 2013
Reviewed by: Steve Bennett
Recent Reviews
What do you think?