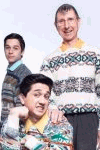 Lessons With Luis: Famoucity
Note: This review is from 2013
In lounge rooms everywhere, awkward, geeky 13-year-olds with no aptitude for the stage put on earnest theatrical shows for the benefit of their supportive, if long-suffering, parents.
Lessons With Luis is that show, but for 'real'. Luis is the naive, nervous, cat-loving star of his own show, with his brother Luelin as his dumbstruck sidekick, only expressing himself through the occasional 'Oh, yeah' or other sample from the machine they borrowed from their neighbour. They are egged on by cheery-if-hopeless dad Len, nervously clutching a clipboard with both hands as he takes to performing with a combination of enthusiasm and blind terror.
This is one repressed, damaged family, all in near-matching gaudy jumpers and the sort of worrying detachment from the real world more normally seen in cult members. They are brilliant, fully realised comic creations, who you utterly believe have a life – however weird – beyond the stage.
A shambolic, amateurish show from Luis's limited imagination is exactly what you expect from such unsophisticates; yet the anti-comedy of Famoucity, for me at least, became tired very quickly.
The show starts with a half-baked attempt at a conga line, then some lame 'gags' from Luis - the sort of thing generated from a small kid who's just learned the rhythm and concept of jokes but not quite figured out how they actually work. Then he puts on his little show, in which he plays a big-time movie director, due to attend to the Famous Awards, where he expects to win the award for most famous person. But – jeopardy alert – he first has to finish the movie and run the gauntlet of paparazzi... and with only an hour to spare! Will he make it...
The ensuing schlock incorporates cheap props, missed cues, amateur videos and misguided audience participation, all executed with absolute authenticity. The performances are a delight, and although Luis's comic mistiming is the basis for the show, dad Len's clumsy, earnest gusto makes him the scene-stealing star.
Yet for all their unique charm, set pieces such as the talent-show-style auditions and the cheesy catwalk fashion show, have an inevitability that palls as the joke never changes. Not for maybe half the audience, who were guffawing wildly from the back rows, but I felt I was politely humouring them, like that patient parent in the lounge-room theatre. Their guileless charm is irresistible, but I'd like a vehicle that made more of their convincing personalities than this rather superficial effort.
Review date: 5 Apr 2013
Reviewed by: Steve Bennett
Reviewed at: Melbourne International Comedy Festival
Recent Reviews
What do you think?