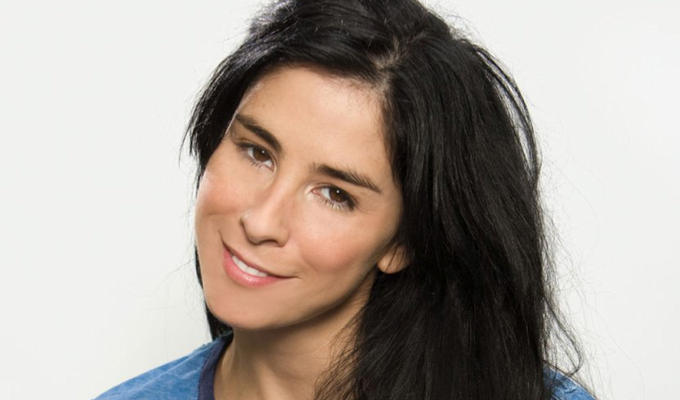 Sarah Silverman – Original Review
Note: This review is from 2008
Sarah Silverman
.
Defying the impending recession, even official tickets for her London debut were going for little short of £50, when rip-off ticket agency fees are taken into account; but for that she performed around 50 minutes – plus one scrappy, reluctant 'encore'. Rarely has such a strong wave of disgruntlement engulfed a venue than in the Hammersmith Apollo after this disappointingly brief performance, with hecklers bluntly telling her: 'You're over-hyped.'
It was quite a reversal of fortune for someone held in such esteem by the cognoscenti. Before the gig, an unassuming street corner in West London had temporarily transformed into the Groucho Club, thanks to the comedy elite who had come out to see her: David Walliams, Julian Barratt, Omid Djalili, Charlie Brooker, Graham Linehan and countless circuit stand-ups were among the adoring audience.
And, to be fair, for the brief time she was on stage, the Jewish princess did nothing to disappoint, even if the material might have been familiar to the die-hard fans who packed out the 3,600-seat theatre.
Horribly offensive comments - racist, homophobic, or making light of rape of the Holocaust – spewed forth from that mouth in which butter wouldn't melt. But her winning technique is to combine the hideously ignorant, with the so adorably naïve, thus niftily deflecting any affront.
She's so cute, ditzy, and amazing self-centred that it's like a cast member of The OC blurting out something hideous: your sympathy is more with them for being so dumb, than being outraged at what she says. Her coquettish, schoolgirl outfit of pleated skirt, magenta tights and loosely-worn tie only add to the vacuous, faux innocent image. She would, she confesses, tongue-in-cheek, rather be seen as slim than as racist.
But with Silverman, it's also obvious she's actually a razor-sharp operator, so there's a comforting cushion of irony around every evil utterance.
There are some deliciously dismissive lines in this delicately fierce set; the best being when her idiot savant sensibilities crash into real issues, such as the controversy over mentioning God in America's Pledge Of Allegiance. But race, sexuality and supposedly taboo mentions of sex crimes are her stock in trade, and every sacred cow is duly slaughtered, with a seductively sweet smile.
She is so much more than a simple 'potty-mouthed' shock comic; and she skilfully demonstrates the delicate beauty of how the right delivery can be everything, simply by saying the word 'pussy' in the most seedily salacious way she can muster, to brilliant effect.
Some gloriously twee, politically incorrect songs punctuate the barbed stand-up, despite her confessed limitations on the guitar. There is nothing here to match the exuberant brilliance of her viral internet hit I'm Fucking Matt Damon, but the music certainly adds a different pace to proceeding.
She is a guiltily enjoyable act, but just when she starts to hit her stride, she calls time on the gig – over when it had barely begun. After what seemed like little more than a marginally extended headline set, with only the scantest of embarrassing support from Matt Berry and Rich Fulcher to pad this out into a show, she is off. The crowd are understandably baffled, and plead for more. Eventually she demures, and returns to the stage, her fuck-me shoes replaced with comfortable slip-ons, and apologetic about the fact she's no more material to deliver.
She stumbles on uncomfortably for five minutes or so, dabbling with audience banter that she confesses she's no good at, failing to sing one of her songs that one punter knows, but she doesn't. And as the shambles threatens to bring her down completely, she again retreats backstage, to much disapproving muttering among the audience. Show's over folks, nothing to see here. We all go to the bar to grumble amongst ourselves.
Silverman may be more than a simple insult comedy, but with this shockingly brief performance she delivers a stinging insult to the fans who had been so ready to laud her. The quality of her work remains unimpeachable, but the contempt inherent in this shoddy gig will have done her no favours in winning over a British audience.
Reviewed by: Steve Bennett
Hammersmith, London, October 19, 2008
Review date: 1 Dec 2008
Reviewed by: Steve Bennett
Minute for minute, there are sex phonelines that are cheaper than
Recent Reviews
What do you think?