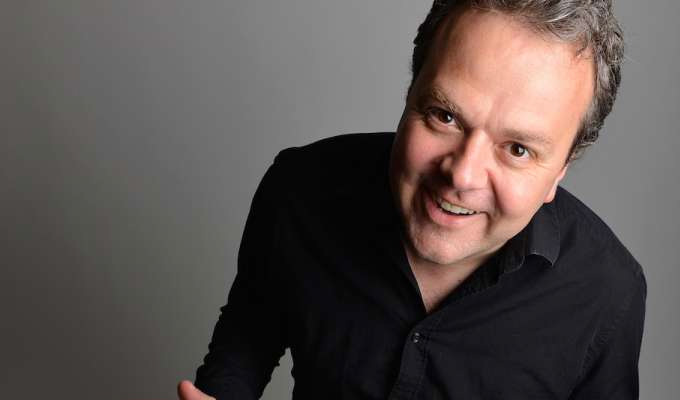 Hal Cruttenden – Original Review
Note: This review is from 2008
Hal Cruttenden
. Living a comfortable middle England life, but dogged by liberal guilt, his set covers his angst about doing the right thing for his family and for society – even if the two aims aren't easily squared. And because he's a wet, middle-class male, he expends far more energy on fretting than on action.
That makes his stage persona consistent and clearly defined, so an audience knows exactly what his point of view is. And to back that up, he has well-built gags and a accomplished, assured delivery, which he garnishes with plenty of potted comic characterisations from his imagination: from the market-trader bank manager to the gay man with the inappropriately gruff voice.
His wife, an Ulsterwoman, bears the brunt of one of his impersonations, too, becoming an abrupt and threatening stereotype – but one which provides plenty of laughs. Such national, regional prejudices are a staple of his routine, but because his liberal credentials are well-established, he can get laughs from both the generalisations, and from mocking lazy attitudes that think they are the truth. A good dollop of self-deprecation helps that along, too – not least about his own camp mannerisms, which again throws gay sterotypes up for disucssion.
It all contributes to a polished, slick act with a bounty of reliable punchlines likely to entertain almost any club audience.
Review date: 3 Mar 2008
Reviewed by: Steve Bennett
If any comic epitomises the well-meaning but ineffectual Guardianista class, it's
Recent Reviews
What do you think?