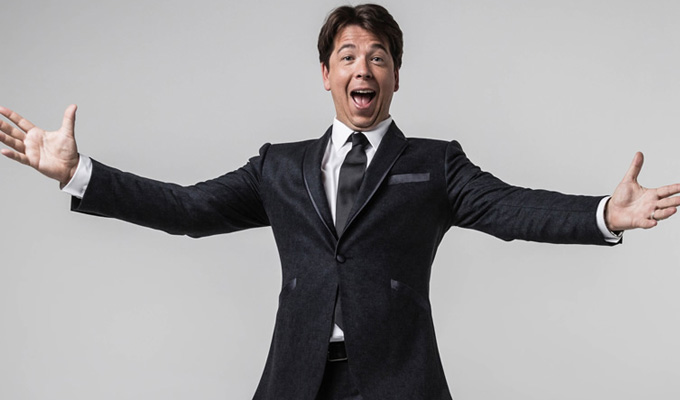 Ten times the money for one tenth the laughs
Michael McIntyre has revealed some of the odder - and most lucrative - corporate and private gigs he has been asked to perform.
The comic says his first big payday came immediately after his first BBC One appearance, on Have I Got News For You?, where he received £5.000 to fly to Portugal for a single night.
Although that gig went OK, he says: 'Corporate gigs are notoriously tough. You get paid ten times more for ten times less of a response.
'The audience is often dominated by men who aren't there for comedy. They are there to network, feast and drink excessively, all at the expense of their employer.
In his new book, A Funny Life, he describes trying to adapt his act to each event, 'with varying results.'
'At the Customer Service Awards I walked on and said in a monotone voice: "The hosting of this award ceremony is important to me. Please wait and I will be hosting as soon as possible... The hosting of this award ceremony is important to me. Please wait and I will be hosting as soon as possible..."
'Nothing. No laughs. More than a thousand people who worked in customer service didn't get that joke and just waited patiently for me to start.
McIntyre also recalls being flown on to a yacht in the French Riviera to entertain a family of 12, 'including a three-year-old girl who sat at the front with big headphones on, watching an iPad in her pyjamas'.
'Just before I got to my first punchline, she lifted up one headphone and shouted: "'Is it finished yet, Mummy?"'
He also once interrupted a holiday in Majorca to do a stand-up set at a birthday party at a castle in Scotland, with the hosts agreeing to fly him there and back
'At breakfast the next morning I was saying to all the other guests, "Guess where I was last night." They said, "Did you try that tapas place?" and I said, "No, I was in Scotland!"'
He said that even though he is now rich enough to say no, he is inspired to take the gigs because of the even more famous names who do so.
''Oh you'd be amazed who does it, he said. 'At this one, Lionel Richie was there too. If it's good enough for Lionel Richie…'
But when one rich family booked him to entertain at a dinner party. McIntyre objected, saying: 'I can't stand at the end of a table and tell jokes. I need a stage.
He reluctantly agreed, and when he arrived they had built a 'plinth' in the hallway.
' I said, "Do they come out to the hall?" and they said, "No, we wheel you in." And they did. They'd put a curtain around it, like a shower curtain.'
The incidents were revealed in an extract from his new book, published in the Daily Mail today, and an interview with the same newspaper.
Published: 9 Oct 2021