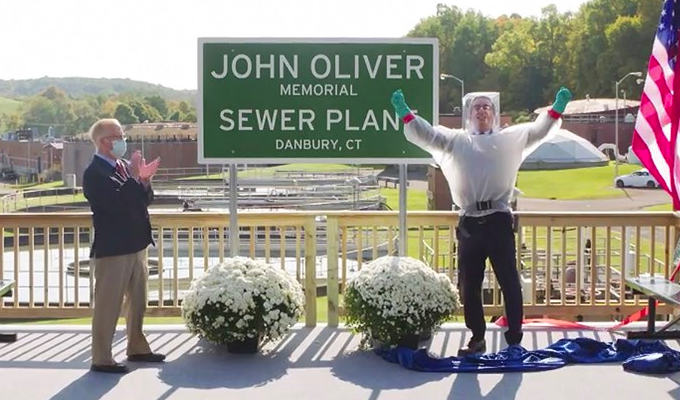 John Oliver unveils the sewage plant named in his honour
John Oliver has officially opened the sewer plant named in his honour.
Danbury, Connecticut, named the facility after the comedian after he randomly singled the city out for a vicious verbal mauling in his HBO show Last Week Tonight in August.
And on Sunday, after months of playfully exchanging insults, footage of him officially opening The John Oliver Memorial Sewer Plant's new name was aired on the show.
'This place takes the worst that humanity can produce and transforms it into something that we can live with,' Oliver said, while dressed in home-made PPE.
'And now more than ever, there's something inspirational in that, because at the end of this awful, awful year, what could be more important than evidence that, if we want to, we can come together, overcome our differences and sort our shit out.'
Mayor Mark Boughton gave the comic the dubious honour because the facility was 'full of crap just like you, John.
Published: 21 Oct 2020
What do you think?