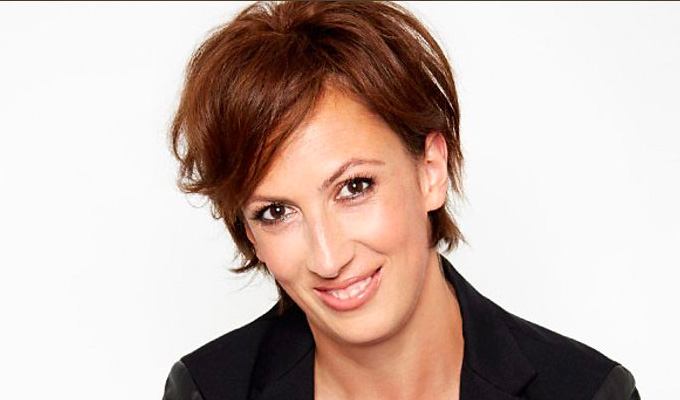 'I'm still having Miranda moments!'
Miranda may have long ended, but it doesn't mean its creator is avoiding the sort of embarrassing incidents she could include in the sitcom
Speaking to Graham Norton on his BBC One talk show tonight, Miranda Hart shared a cringeworthy incident that happened to her during lockdown.
'My dog is 13 now and has gone deaf so instead of saying gently, "Wee Wees" when she is outside, I have to shout it at her,' she explained.
'The other day I couldn't get her back, so wearing just a towel I was shouting 'Peggy, wee wees' at the top of my voice. It was only afterwards that I realised someone was filming a live Zoom PE class and I was in the background.''
She also said she was initially reluctant to get back together with Miranda's cast for a televised ten-year anniversary celebration.
'It felt very British and a bit awkward celebrating myself and then I thought, "Fuck it – the show did really well and I am allowed to celebrate it and be proud of it."
'The biggest surprise was what it meant to people. After the second series I started getting letters – particularly from teenage girls and young women who said the show really helped them with their anxieties and helped them accept themselves. Subconsciously, there was clearly more going into the writing than I realised – it was kind of cool to acknowledge that'
Will Ferrell is also on the show to talk about his new Netflix movie Eurovision.
Asked how he became a fan of the contest, he says: 't happened about 20 years ago when we were visiting my wife's family in Sweden. One evening her cousin suggested we watch it and we sat there for three hours straight. I was slack-jawed. I couldn't believe what I was watching. It was the craziest thing I'd ever seen. Everything you guys see – the spectacle, the humour – it was intoxicating.'
He also shows off two of his favourite film mementoes, including a Channel 4 News ring from Anchorman.
'Ron Burgundy wore it every day of filming – it's a classic,' he says.
'And I have the prosthetic testicles from Step Brothers. They are very lifelike, and I have brought them out much to the horror of many a dinner party.'
• The Graham Norton Show is on BBC One at 10.45pm tonight.
Published: 15 May 2020
What do you think?