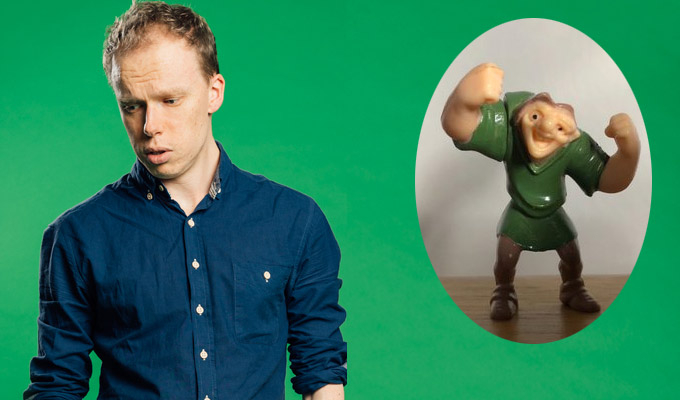 We've a Hunch this was never going to work
Jordan Brookes is known for his unconventional approach to stand-up - but he recently revealed just how far he's prepared to go to get a laugh.
His 2017 show, Body Of Work, was a twisted tribute to his late grandmother. And his original plan was to secrete a Hunchback of Notre Dame toy that she gave him up his anus – to produce it with a flourish at the climax of the hour.
But after a couple of preview shows he ditched the big reveal. 'I got piles,' he revealed. 'And no one cried in the way I intended.'
Just found this hunchback of notre dame kinder egg toy that I once tried to have up my arse all show before pulling it out at the end for a big reveal, set up in advance to make it the most poignant thing anyone's ever seen and leave them in tears. I tried it twice and got piles pic.twitter.com/WeWp6UNB5P

— Jordan Brookes (@jordbrookes) October 19, 2019
Brookes' other experiments in comedy have included playing the infrasonic frequency 'brown note', designed to subliminally make people feel uncomfortable, during his 2018 show Bleed.
The note is so titled as it's supposed to cause people to lose control of their bowels due to resonance.
Scientists have never managed to achieve that result, but in an interview with The i, Brookes claimed one poor audience member did fall victim.
Brookes' latest show, I've Got Nothing, opens at the Soho Theatre in London tonight.
Published: 16 Dec 2019
What do you think?