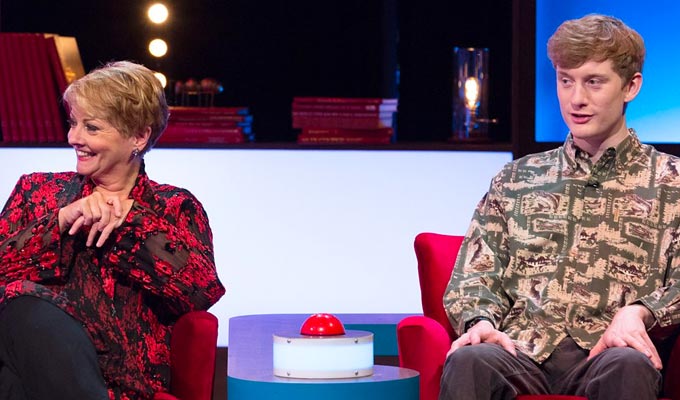 Anne Diamond called me a dickhead!
She came to fame as a presenter of genial daytime TV programmes.
But it seems there is one person that Anne Diamond cannot abide: James Acaster.
The comedian has been recalling how he incurred her wrath when they appeared on BBC Two quiz show House of Games together in November.
At the time the comic commented on a photograph that host Richard Osman tweeted from the programme, which also included actor Samantha Womack and Top Gear presenter Rory Reid, by saying: 'Three of the people in this photograph absolutely hated me. Tune in!'
Three of the people in this photograph absolutely hated me. Tune in! https://t.co/PwnqOJhIS6

— James Acaster Forever (@JamesAcaster) November 26, 2018
But now Acaster has revealed the full depth of Diamond's dislike of him.
Five episodes of the programme, in which the celebrities took part in a series of daft rounds, were recorded in a day. And after winning three, Acaster recalled that 'national treasure Anne Diamond called me a dickhead'.
'She really got vicious' he told Australian comedian Josh Earl on his podcast. 'She said, "This is just a stupid quiz for stupid people with stupid brains!'
'I basically didn't try then. But I still won overall, got given the trophy.'
After the recording he admitted: 'I got smashed on my own', explaining how he then went to meet two of his comedian friends.
'I've got the trophy, which is a huge trophy, and I'm walking in to meet Nish [Kumar] and Ed [Gamble]. And then someone stopped me in the street and said, "Did you win that at bingo?"
'And I went, "Yeah, I did" and I threw it in the air and it smashed on the floor. And then I gave it to a busker - "there you go, melt it down!"
But as if to support Diamond's verdict on the comic, Acaster may have openly displayed his foolishness this morning - after allowing Gamble to hijack his Twitter account.
Gamble posted: 'James couldn't get into his Twitter so stupidly gave me the password to try. It worked. Welcome to the worst day of his life.'
The comic, who already operates the spoof 'James Acastor' Twitter account, used Acaster's official account to promote his own gigs, demand the deportation of Kumar, and vow to open all conversations: "Yo sushi!'
Eventually he made the meta-joke 'Plot twist: I am actually an undercover cop and the show was a double bluff', an allusion to Acaster's stand-up show Repertoire.
Gamble also shared a text from Acaster, who is away at the Melbourne International Comedy Festival, declaring: 'Oh my holy god. Promote the episode first you diabetic little shit'.
Comics like Kumar, Rhys James and David O'Doherty joined in with the prank, before Acaster seemed to wrest control back around 2pm, posting: 'Well I've read through all of today's tweets and I feel sick.'
Published: 17 Apr 2019
What do you think?