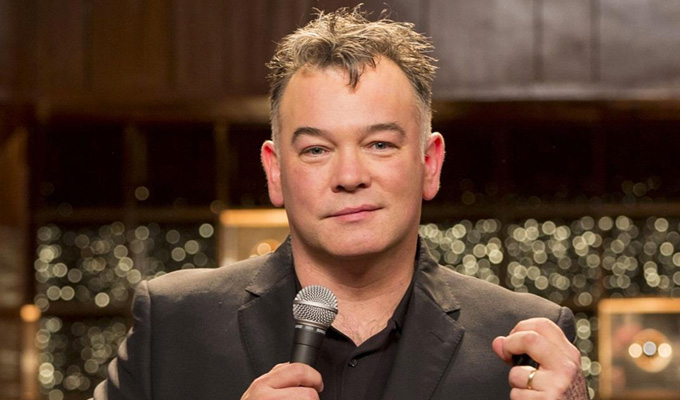 Stewart Lee bottled on stage
Stewart Lee has been bottled on stage… but thankfully, only in a comic book.
The comedian and graphic novel fan appears in Doomsday Clock #3, a sequel to the phenomenally successful Watchmen series.
In the series of panels, a strong likeness of Lee is shown telling a bad joke in a pub in Gotham City, before being hit by a bottle hurled from the crowd.
'How many of Gotham's Caped Crusaders does it take to screw in a light bulb?' the comic is seen asking. 'None! They like it in the dark.'
January 24, 2018
The scene has proved controversial among some comic-book fans.
Doomsday Clock is already contentious because DC Comics produced it against the wishes of Watchmen creator Alan Moore, and some readers think the caricature of Lee, a friend of the writer, is rubbing salt into the wounds.
J. H. Williams III, himself a comic book artist, tweeted: 'This is pretty sick behavior. I mean, what is the point other than to antagonize?.
Fellow artist Jennie Gyllblad added: 'This is fucked up. What the hell DC? Why would you purposefully create a shit caricature of someone's IRL [in-real-life] friend in a comic only to have them glassed and laughed at? How pathetic ARE you?'
Aditya Bidikar, who inks the text on comic books, added: 'I already think THE WATCHMEN SEQUEL™ shouldn't exist, but shitting on Alan Moore's friends in the pages of that just seems mean to me. '
This is not the first time Lee has appeared in a comic. A decade ago a poster of the comedian appeared in an issue of Marvel's Incredible Hulk, with the flattered Lee reflecting: 'I think they must somehow have heard of the stand-up Ang Lee/Hulk bit that I do, where I talk about always reading the comic.'
Gary Frank drew both the Hulk comic and Doomsday Clock, so he may have been paying tribute to Lee in the new book, rather than being disrespectful.
Published: 25 Jan 2018
Recent Punching Up
What do you think?