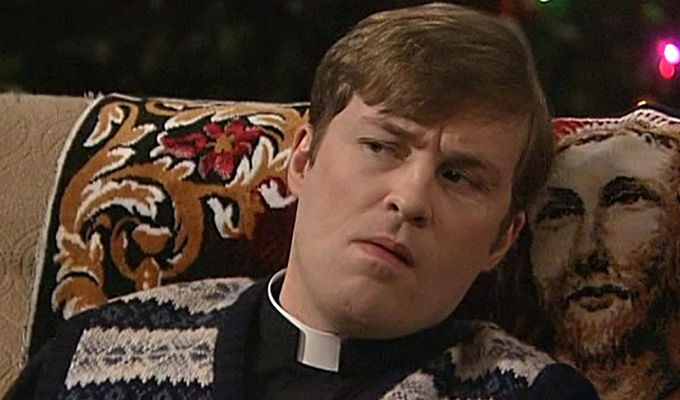 It's a wig!
As Father Dougal McGuire, Ardal O'Hanlon wasn't exactly discreet about the wig sported by washed-up TV star Henry Sellers when he visited Craggy Island.
But the actor has revealed that he was sporting a hairpiece of his own during Father Ted's second series.
It came after he had his familiar dark blonde mop chopped for his wedding – after location scenes had been shot but before studio scenes were recorded.
Recalling that producers had a 'look of horror' when he returned from his nuptials looking 'unrecognisable', they had to scramble to get a bespoke wig made to order.
'I was feeling pretty rough on the day of my wedding - a very special day and my best man had taken me out the night before so I went to a barber's and I got a close shave and I got my hair cut,' he explained.
'I went back into the studios – this is two weeks after we'd already done quite a bit of filming, went back into studio to shoot the whole series but I'd no hair,' he added.
'It was really short, unrecognisable. I remember just the look of horror when I went back into the studio and they had to film for eight weeks and it didn't match, it just didn't match at all, it couldn't have been more different.
'So, they had to manufacture a wig at very short notice. I think it cost pretty much the budget for the second series to make this wig. So, during the entire second series, that's a wig to match my own hair.'
Published: 15 Jan 2018
What do you think?