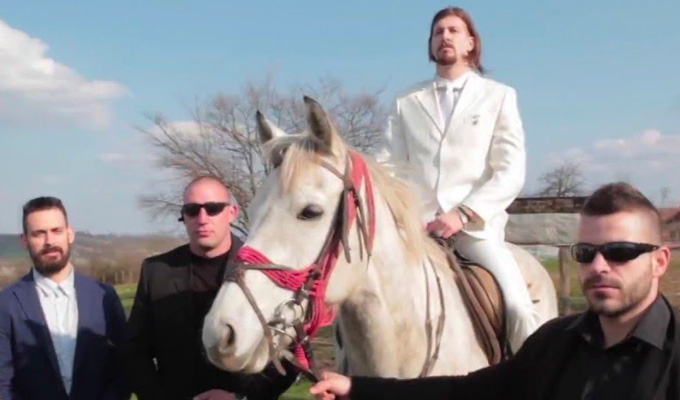 Vote for the cabbage roll party!
A comedian is set to hoover up votes in Serbia's forthcoming presidential election.
Ljubisa Beli Preletacevic set up his party Sarmu Probo Nisi â€" which translates as 'you haven't tasted the stuffed cabbage roll' â€" as a satirical move, but it has been gathering pace.
Now his party is predicted to take 11 per cent of votes in Sunday's poll â€" making him a second favourite after sitting Prime Minister Aleksandar Vucic.
His name, usually shortened to Beli, means 'the guy in white who switches his beliefs for political gain' as he always wears a white suit.
Beli's campaign videos portray him as a parodic strongman, doing push-ups, sucking on raw eggs and artificially inseminating a cow.
In an interview with the BBC he said: 'The best way to show unhappiness is with satire and humour. The people of power don't know who to react to this. So the best way - to be honest. And to lie.'
His campaign policies inlcude moving the sea to land-locked Serbia 'because we need a beach' and has vowed: 'There will be no corruption â€" excluding my own, of course. Please send all money directly to my pockets.'
His campaign, which has struck a particular cord with younger voters, is seen as a product of the disenfranchisement that has seen the rise of right-wing populaist parties across Europe, but far less toxic.
Here's a report from America's NPR about the rise of the self-proclaimed 'most beautiful candidate in Serbia'.
And here he is in a BBC interview:
Published: 4 Apr 2017
Recent Punching Up
What do you think?