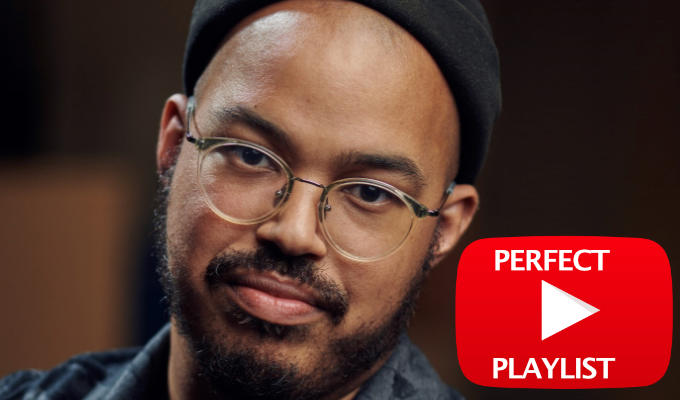 There's not an hour of stand-up that comes close to Richard Pryor
Comedian Archie Maddocks is leading a new half-term Skills Lab at the Soho Theatre for 16-19-year-olds wanting to get into comedy. As applications draw to a close, here he shares his Perfect Playlist of comedy favourites.
Dave Chappelle: For What it's Worth
Dave has fallen off recently, but to separate art from the artist, this show is excellent. It also has what I think (or at least definitely thought at the time) one of the most genius jokes I have ever seen - how old is 15 really? At the time I hadn't really seen a political, lacerating, incisive joke like that and it properly opened my eyes as to how comedy could comment on the real world to make a very valid point.
It's up there with Chris Rock's routine about not banning guns, but making bullets expensive therefore no more innocent bystanders.
Stir Crazy
Way back before streaming and all that stuff, I used to have an old VHS player that would literally only play a couple of tapes; Flight Of The Navigator and Stir Crazy.
These times, boredom would come so easy so you either had to do something productive or find joy in doing something repetitive (kind of like stand-up I guess). I was much more into the idea of doing the same thing over and over till insanity came knocking than bringing in anything new, I ain't really about change.
I fucking loved Stir Crazy. There was so much about it that didn't quite work, it wasn't slick, the narrative wasn't robust, the acting at times was something terrible - but all of that made it so much better. It didn't need to be slick, the sound mixes didn't need to be perfect - it all worked.
And really, it's a film that shouldn't work. The two main characters wouldn't be friends, but that's what was great about it. And also, it was fucking hilarious. To this day, if it's on, it's getting watched by me - don't matter what I've got to do, I'm watching Stir Crazy.
Richard Pryor Live In Concert
There's not an hour of stand-up that comes close to this. Nothing. It's impossible. This show is above comedy. For me it was like watching physical, quantifiable delirium.
I watched it for the first time when I was 10 or 11 with my dad. I can remember laughing so hard I thought I was going to die. And then I look over and see my dad laughing too, this is a guy that didn't laugh too tough at a lot of things, so to see him bent over and totally out of control… it was like watching the world's greatest magician at the peak of their powers.
Richard Pryor will never be bettered when it comes to stand-up. Anyone who argues can suck their mum.
Friday
An underrated, cultural juggernaut that still gives to this day. I reckon this film was probably my personality for at least five Fridays a summer when I was 13. And also it showed the world Chris Tucker, who was my guy till Rush Hour 3 came out…
Greg Davies Firing Cheeseballs At A Dog
I'd never seen a show be, in the most respectful way possible, so dumb and so much fun.
I don't tend to enjoy a lot of English stand-up shows, they don't go deep enough for me more time - they're all, you know, very English. But this I can watch over and over and it never fails to make me laugh. It's the gleeful distain for anything 'serious' that's intoxicating.
Chris Rock: Bigger And Blacker
I think when great stand-ups reach their highest point, they transcend all barriers of race, cultural specificity, everything.
This is what Chris Rock does in this show. It's got one of the greatest jokes of all time (bullets) and shows a master on top of their game. The way he prowls the stage like a caged animal, the way he punches the words at you like Mike Tyson at his best, it's just incredible.
And to be honest, it's when Chris Rock should have stopped doing stand-up, he was never going to do better than this work of art in its highest form.
• Anyone aged 16 – 19 can apply to Soho's Comedy Skills Lab, led by Archie Maddocks and covering writing and performing including improvisation, sketch creation, character development and crafting stand-up material. He and guest artists will share their industry insights and expertise. To apply click here. Applications close Monday 2 October. No previous experience in comedy is necessary.
Published: 29 Sep 2023