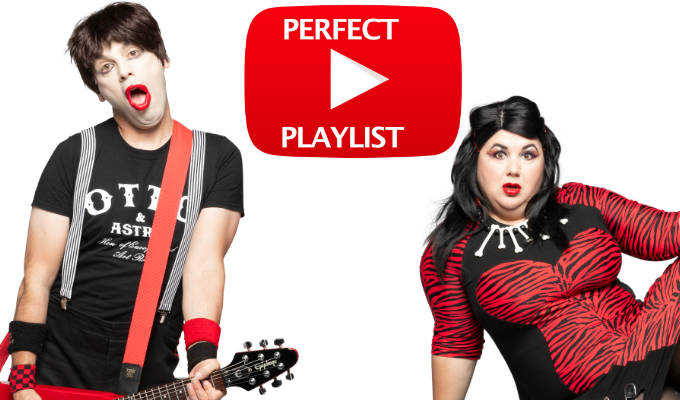 'I wish I was in the middle of that drum rock sandwich'
Berlin art rock stars Otto & Astrid are back at the Fringe with their Joint Solo Project. And here is their joint solo Perfect Playlist of comedy favourites
Animal AND Dave Grohl (Astrid Rot's choice)
I've been known to lose a few drums and mic stands from my drum riser over the years, I've even seen some technicians try to gaffer tape them down but there's no gaffer that can hold me back from my drums when I'm in full flight!
I wanna feel wild and free with my playing so it's no surprise that Animal AND Dave Grohl are two of my fave drummers. This is one drum rock sandwich I would have loved to be in the middle of!
Broad City in the Background (Astrid Rot's choice)
Sometimes as a drummer you can feel a little underappreciated in a band as they often place the drummer right at the back, behind all the guitarists and you're covered in mic stands so no-one can see you.
I would never let that happen to me, I KNOW I am the most important person in the band. My drum riser is very high and it's right at the front of the stage alongside Otto. I use clip-on mics so everyone can see me at ALL times.
Plus, I am very great at doing side kicks to punctuate the song and throne leaps, where you spring vertically from your drum stool into the air and land ready to play!
Here's the extremely funny gals from Broad City slipping waaaay in the background!
Morecambe and Wise Making Breakfast (Astrid Rot's choice)
I'm lucky in that Otto makes me breakfast every afternoon around 2.30pm either when I wake up or walk in the door. He knows exactly what I need in order to get through our show and the inevitable after party.
Sometimes though, I think many years in the future when we are truly old, Otto and I will be in our flat in Kreuzberg in our dressing gowns and...
Since we're heading to the UK this is one of my all-time fave routines from Morecambe and Wise making breakfast, (although breakfast with Otto would of course be vegan sausages).
Hello Kitty (Otto Rot's choice)
How adorable is this cat?!! Such raw talent and emotion. And then David Scott takes the original video and turns it into an ear worm. That melody is so catchy that sometimes I can't sleep while it's playing in my head.
Drummer for Another Gig (Otto Rot's choice)
I've watched this clip over and over again. It makes me wonder what these guys talk about in the band room before and after the gig. Does the drummer give lessons?
The Power of Vulnerability (Otto Rot's choice)
This is not a funny video but everybody should watch it. Vulnerability is the glue that holds relationships together.

• Otto & Astrid's Joint Solo Project is on at 7.25pm in Assembly George Square Gardens throughout the Fringe.

Published: 17 Aug 2023