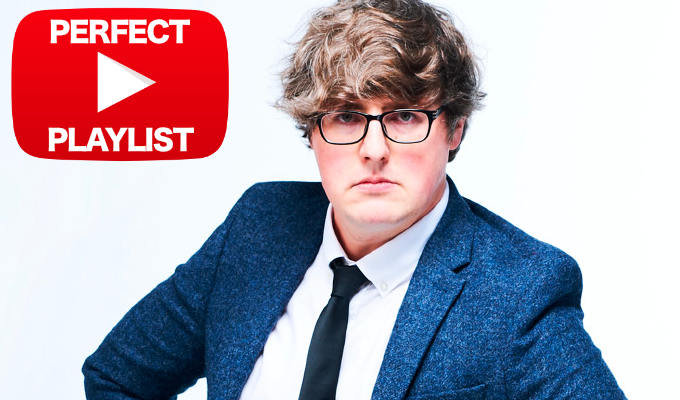 I love this lesion-riddled pink horror sausage...
As he heads to the Edinburgh Fringe, Glenn Moore shares his favourite comedy things...
Mr Blobby
Mr Blobby is comedy in its purest form. There's no period in history where he wouldn't have gone down a storm. The Ancient Greeks would have named him Blobbe and gone wild for him, the Egyptians would have praised him as a god.
I think Mr Blobby is perfect comedy because he both should and shouldn't work. If comedy is about surprise and the unexpected nature of a punchline, then he fails because we know he'll cause chaos and destruction.
That should eliminate the necessary tension of comedy, but Mr Blobby is nothing but tension. He operates on the same level as a horror movie. It's not a case of if he'll destroy but what, and how. He's a Saw trap, a Final Destination scene in a hardware store. You know someone will die, it's now just become a question of how.
It's hard to articulate the level of threat Blobby poses when you first see him. He's this weird, physically inarticulate marshmallow, unable to make eye contact. And yet, as one would a vampire, Noel Edmonds would let him in through the window every week. He'd have learnt no lessons from the week before that, and the week before that, like a teenager in Nightmare On Elm Street checking out the basement.
That's not to say Blobby himself is scary, it's just that he is unknowable. He presents question after question, just by being. Who on earth pitched Mr Blobby? Why is he fully naked except for a tie, the opposite of smart casual? How do Mr Blobby and Noel Edmonds know each other? Are they cousins or just mates?
All those questions go out the window when he falls. That's all he does. Nobody falls harder than Mr Blobby. Thumping, bone-shattering thuds, like in Family Guy when someone gets hit by a car and falls to the floor in a single frame. That, but in real life.
To turn that threat on its head and into pure comedy is incredible. Bear in mind he's not a photogenic comic with relatable mainstream material. He's a lesion-riddled pink horror sausage impaired by a near insurmountable language barrier. Yes, Noel Edmonds entertained the nation on a Saturday night, but Blobby did it backwards and in heels.
The Eric Andre Show
One type of comedy I wish I could see more of is 'well-intentioned horror'. See for instance Homer kindly building Bart the horrifying clown bed, or that unhinged British Pork's Got The Lot advert from the 1980s, or that unbearably stressful Andrex advert.
There's just something about a cheery pizza commercial where they zoom in just a bit too close on a happy customer's chewing mouth that really does it for me. Or Ronald McDonald excitedly advertised burgers, never mentioning one of his hands is wrapped in a bloodied bandage.
The Eric Andre show is just ten minutes of that. Presented as a chat show, where horrifying behaviour goes unchecked and unnoticed. It's stunning.
30 Rock
Tina Fey has without question influenced me the most in my career so far. I love anything packed with memorable lines, but whenever I rewatch 30 Rock, I'm constantly taken aback at the writers' ability to keep firing out just so many wonderfully original jokes (According to a Den Of Geek study, just over six gags per minute, which I feel would be good enough in stand-up, but in a sitcom with a compelling plot is just incredible).
For me, Frasier is the most complete sitcom of all time, but what both that and 30 Rock excel at are brilliant lines that are so purpose-built for each character you couldn't picture anyone else delivering them. If you read a script from either show with all the names crossed out, you could instantly tell a Niles joke from a Martin joke, or a Kenneth joke from a Jenna Maroney joke. A stunning amount of effort has gone in to create a show where it feels like it's written itself.
Zach Galifianakis
I've never been so hooked from an opening line: 'My name is Zach Galifianakis and I hope I'm pronouncing that right.' I love this special because it reminds me of 2013 Twitter, when people were just making the most amazing, original jokes every few seconds.
It was like the Industrial Revolution. For me this special, tonally, is completely that - every line, every thought is so completely original, the onstage persona never hits you over the head, it's just all there.
A Video Of Someone Burping
Look, I've watched videos of burping world championships and they just don't do it for me. But this…this is special. The snuff-film graininess of the footage makes me worried we're about to see someone get shot, but then out comes this perfect no-frills performance. If you had it on mute you'd assume he was auditioning for a choir.
There are three perfect moments for me: obviously the length of the burp itself, but I crumble every time he yelps through his burp, 'it hurts'. I struggle to breathe when towards the end he gets the most unlikely second wind and burps louder than I've ever heard a human burp, much to the disgust of the cameraman.
I have ruined so much comedy for myself by rewatching it to death and diminishing its effect. This though, I can't get through it without laughing.
• Glenn Moore's Edinburgh Fringe show Will You Still Need Me, Will You Still Feed Me, Glenn I'm Sixty Moore will be at the Pleasance Courtyard Cabaret Bar at 4.05pm.
Published: 1 Aug 2022
What do you think?