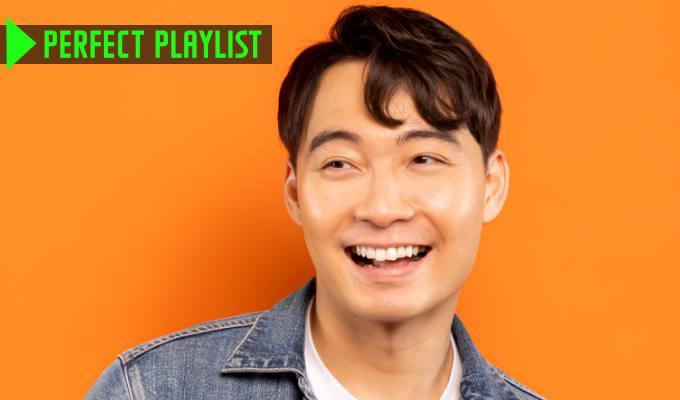 'I hope my films can be as tenth as good as this...'
Nigel Ng, the Malaysian-born, British-based comic who achieved huge viral success with his Uncle Roger character, is about to go on a world tour, which will take in dates across Europe, North America, Australia and Asia following his 11 UK shows.. And he's also just launched the Comedy Central online series East Mode. Here he shares his Perfect Playlist of favourite comedy moments…
---
Nathan for You
This is a semi-scripted show created and starred by Nathan Fielder. Nathan plays this business school grad who helps local businesses struggling to make it in a competitive market. Of course, he is completely hapless, and I always laugh at the awkwardness and crazy situations he puts himself in.
In this particular clip, he tries to help a local frozen yogurt store by introducing an interesting flavour…
The Tim Dillon Show
A podcast by American comedian Tim Dillon. It's funny, it's outrageous, it's savage. Every week he talks about why he thinks civilisation is in the decline, but for some reason he's able to make it hilarious. His 'hot mic' clip is one the funniest things I've seen recently:
Man this is crazy. NBC Employee fired after hot mic incident at Olympics. #OlympicGames pic.twitter.com/rgWKBaqxFD

— Tim Dillon (@TimJDillon) July 23, 2021
Peep Show
I was blown away when I discovered Peep Show. I loved how neurotic and borderline pathetic most of the characters were. The acting was great, the point of view style of shooting really added to the comedic effect. It was the first British TV show that I really fell in love with.
Shane Gillis Live in Austin
One of the funniest stand-up specials I've seen recently, and he's put it all for free on YouTube. It's tight, punchline after punchline, and I still laughed while watching it through the third time:
Kathleen Madigan's MH370 Joke
Due to a combination of being Malaysian and having a morbid curiosity, I've gone down many a rabbit hole trying to find out what actually happened to missing Malaysian airlines MH370.
I've heard a whole gamut of jokes about this topic, ranging from good to terrible. I've even made some MH370 jokes myself. But to me, Kathleen Madigan had the best take on it. Six minutes on MH370, she really mined the topic well!
Watch it here.
Conan Without Borders
Conan O'Brien is an inspiration. Effortlessly funny, and lightning quick with his wit.
My videos which involve my character Uncle Roger travelling to certain places are heavily inspired by him, though I'd be happy if mine were a tenth as good.
My favourite episode of this series is when he travels to North Korea. The fact that he can find the funny in being in one of the tensest places in the world – the DMZ, shows you how good at his craft he is.
• Nigel Ng's The HAIYAA World Tour kicks off on February 16, tickets available here.
Published: 7 Feb 2022
What do you think?