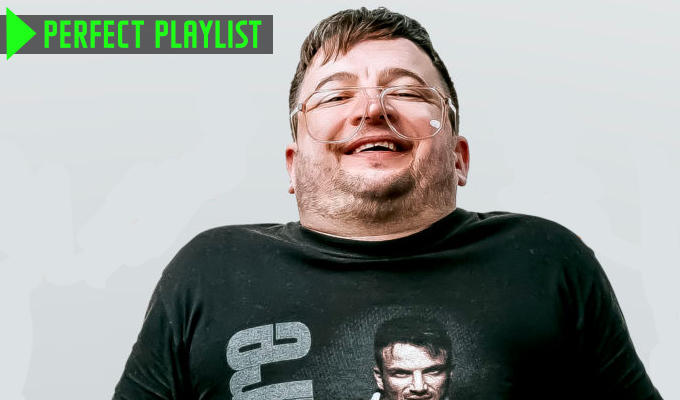 'We laugh more at gritty dramas than overt comedy'
Cult online comedy star Gary Powndland – the creation of Brimingham comic Jack Kirwan – is out on the road this autumn, with a show set in his dead nan's house, where he lives with his sister, her son and a family of ten foxes he's befriended… Here he picks his Perfect Playlist of comedy favourites…
1. Comedy Bang Bang
This is an American character comedy/improv podcast that I've been listening to for years on my headphones at work. It's been really inspirational to me to try different things and not care if they're too stupid or probably won't work - if I really want to fo it, that's enough reason.
The set-up is the host Scott Auckerman has guests and one of them is normally being themselves and the others (mostly comedians) are doing characters and they all just go for it unscripted.

This particular clip is the stand-up Nate Bargatze playing the man who wrote The Monster Mash singing the "original lyrics", it's absolute joyful nonsense. Although obviously it's improv, though, so sometimes it's bloody awful.
The Royle Family

This is my favourite sitcom ever, I love Caroline Aherne, I applied to her memorial BBC bursary for writing but somebody else got it, absolute swizz.
The Royle Family is timeless and brave to leave the silences it does, one of a kind. It's my ultimate comfort viewing, I love the heart behind it and I can relate to each character at certain points, like a lot of people. It's a world I know very well.
Billy Connolly Live (1994)
My dad had this on VHS when I was a kid and I used to sneak down to the living room at night to watch it. I hadn't seen much stand-up then and I still don't think I've laughed as much at any since.
Stand-up isn't particularity a big thing for me, though. I always felt out of place doing it, but it was the only option to do the stuff I wanted to.
The League Of Gentlemen

I remember shouting the catchphrases from the first series at school with my mates. I don't really think I realised how different and inventive it was then, but I really do now.
Taking influences from other artforms is something we do a lot, too, and it really opens things up. We can laugh more at gritty British dramas from the 1980s than overt comedy. It's often funnier because it's not forced.
Vic and Bob
I've always been a fan of double acts since I was a kid, and for me Vic and Bob are on the same level as all the greats.
After such a long time the new stuff really makes me laugh too. which isn't often the case. There was a ghost-watching sketch in the last show that I really struggled to stop laughing at. I would absolutely LOVE to work with them one day!
The Office
I distinctly remember my dad called me downstairs when this first aired, telling me I had to watch it. I don't think we realised it was all scripted, but we did by the end. I'd never seen comedy like this before and was blown away.
• Gary Powndland & Friends is on tour from September 4 to April. Full tour dates
Published: 5 Jul 2021
What do you think?